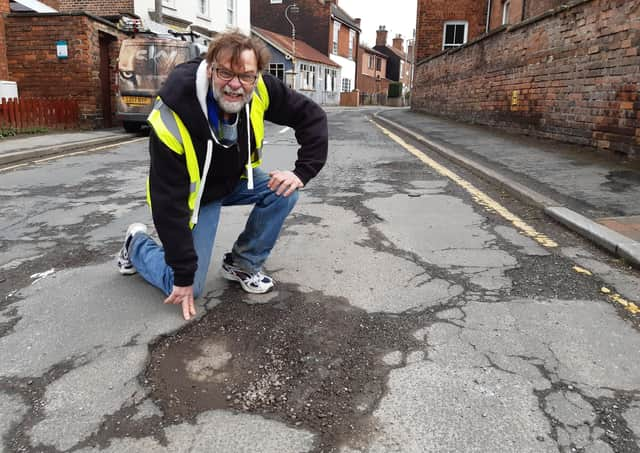 In an open letter to the county's highways department and the Highways and Transport, Portfolio Holder Coun Richard Davies, Coun Stephen Bunney has highlighted the dangerous state of the roads and patchy repairs.
Coun Bunney said: "As a District and Town Councillor, I receive more complaints about the state of our roads than all the other topics combined.
"The main concern - POTHOLES! and the universal generally poor state of the road and pavements – making them a high risk as they frequently cause damage to motor vehicles, bicycles, mobility scooters and pushchairs.
"In many places it is not just one pothole but a whole series running for great lengths of highway.
"The state of repairs is also mentioned in that many of the potholes have been repaired only to reappear at the next cold spell and/or occasion of heavy precipitation and high surface runoff.
"The view is that the patch is applied to fill the hole, but the underlying cause is not being tackled.
"Clearly, this means that the money spent on repairs is not being used to maximum benefit and therefore is a wasteful use of limited Council resources.
"We are advised to report these substandard road conditions on-line using the Fix My Street App or LCC's Web Site.
"Frequently it is reported that the requested repairs have been carried out, but rarely to the complainer's complete satisfaction, as only the pothole reported is repaired and the others in the area left untouched.
"This frequently means a revisit for the maintenance team, or the expansion of the unrepaired pothole rendering the initial repair pointless. Another poor use of money and similarly a wasteful use of resources.
"To help resolve this issue, it has been suggested each pothole in an area should be reported on Fix My Street – though the scale of the problem makes this time consuming and so off putting.
"For instance, on March 20, I spent more than 35 minutes reporting the 40 plus potholes on Church Street, Market Rasen and even then, I combined them into nine separate batches.
"Surely, a more effective process would be for a local inspector/works planner or the maintenance team to review the general state of the road before work commences meaning that all the pot holes are repaired, especially if the state of the road has been commented on.
"Another frustration is the number of times a road is dug up in a relatively short period.
"Residents and Road users wonder why this work is not co-ordinated. The resultant surface after all the works are completed would be one hard wearing and sustainable continuous layer without the weaknesses of patches.
"I appreciate that pot holes are a gigantic problem and is regularly at the forefront of Highways, LCC and even Government thinking. There are some maintenance wins, but they are frequently short lived.
"To many residents, and myself, there is a need for a rethink to what can be done to both resolve, and finance, the problem."
Coun Bunney added: "I would welcome a public meeting (virtual if needed) with local councils and residents to let them air their concerns, digest the official response and make suggestions."