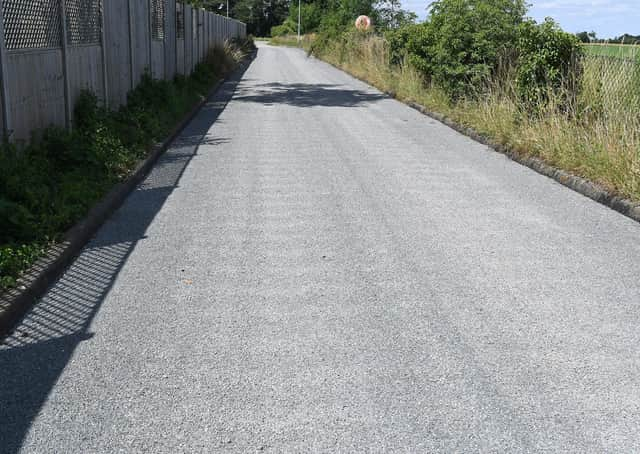 The extraordinary meeting was called after a councillor, Roy Greenwood, was approached by a representative of a road resurfacing company called Highways Group.
Coun Greenwood is also involved in the running of the playing field and sports club, which is ultimately owned by the parish council. He explained: "A guy turned up at the club on Thursday afternoon (July 2) and said he was from 'highways'. He said they were doing some work in Donington and they may have some chippings left over which we could have. I said yes, that would be fine. Then he said they could lay them for about £1 per foot.
"He rang me again on Friday and said they were half way along laying the drive."
Coun Greenwood afterwards realised he had mistakenly thought the company were Lincolnshire County Council highways department.
Parish council chairman Chris South said after some checking he discovered the firm is from Oldham and an invoice was forwarded to the parish council for payment as landowners.
Coun South claimed that both he and the council clerk, Carol McKenzie, received 'aggressive' phone calls from a representative of Highways Group demanding the money, but she informed them that the council would have to meet to discuss it.
Coun South said: "We now have a bill for £4,320 and we have not the money to pay and it is unauthorised."
The meeting was joined by Leader of Lincolnshire County Council, Coun Martin Hill who pointed out that there was no formal written contract. "If it is based on a casual conversation then they have not acted properly," he said.
Coun Hill suggested the council could choose to pay the bill or send a letter informing Highways Group that the work had not been authorised by the clerk or chairman and would not be paid. He was also referring the matter to Trading Standards officers.
Coun Greenwood claimed he was trying to do the council a favour due to the state of the drive. Coun South added: "A financial decision has been made by an individual of the council without authority. It might have been with good intentions but there are procedures to be followed and we now have a bill that we cannot afford and threats putting two people in a difficult position."
Councillors accepted they would need to hold another meeting to discuss any action against Coun Greenwood's alleged breaches of the code of conduct, but at least one member of the public called for Coun Greenwood to resign.
The council elected not to pay the bill and the clerk informed Highways Group. She was told the company would be taking legal advice.
A representative of Highways Group later contacted The Standard to say: "The situation has been resolved and we have left on good terms as the payment has been made by Roy on behalf of the sports club and there has been a large discount due to the crossed wires. We would not want to be seen as a company going after a small football club."
Senior Trading Standards Officer, Joanne Hocking, said: "Residents should take care to research any company before agreeing to contract them for any work. In this case, especially if they are responsible for a community facility, or a town and parish council."
Karen Cassar, assistant director for county council highways, said: "A highways officer, or one of our contractors, would never approach someone out of the blue and offer to do work for them."
If unsure contact the council on 01522 552222.