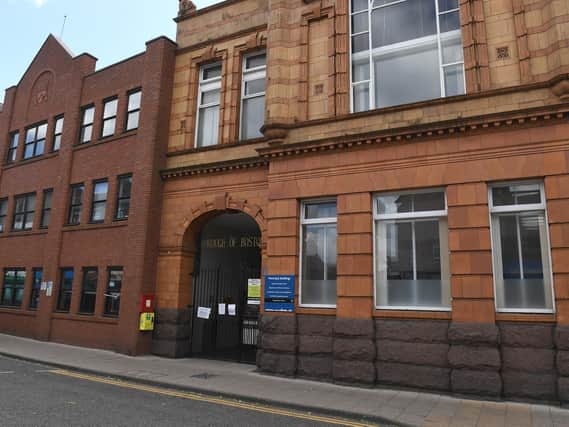 The budget, which will have to be agreed by full council next week, means an increase of around 32p a month for residents living in a Band B property, the most common in the district.
Although it collects the tax, the borough's share is only around 10.5% of the total bill, with 72.2% made up of Lincolnshire County Council's share, 14.1% to the police, and 3.2% to parish councils or the Boston Town Area Committee for central Boston residents.
The county agreed Its share of the bill will increase by 1.99% for the coming year. It says the increase works out to the equivalent to an extra 34p per week for households in council tax band A and 51p for those in tax band D.
The Police and Crime Panel recently backed a recommendation to increase Lincolnshire Police's share of the bill by 5.9%, which it says will mean a rise of between 20p and 26p a week for most households
The Police and Crime Panel recently backed a recommendation to increase its share of the bill by 5.9%, which it says will mean a rise of between 20p and 26p a week for most households
Boston Borough Council's Portfolio Holder for Finance, Councillor Jonathan Noble, said: "It is never an easy decision, especially this year with the impact that Covid 19 has had on everyone in our community.
"For the 21/22 year I am proposing we increase Council Tax at the level allowed by Central Government (2.57%) which works out at an extra 32p a month for those living in a band B property, the most common within our Borough. This increase may seem marginal, however, when finances are difficult, any increase is unwelcome. I therefore want to say a little bit more about what the community would see for this increase.
"Of the total Council Tax the Borough Council collects, 72.2% goes to the County Council, 14.1% to the Police and 3.2% to Parish Councils and BTAC. The remaining 10.5% - around £3.883m per year – is retained by the Borough Council.
"Half of this sum goes directly to our Internal Drainage Boards who perform an important role in protecting us all. They do an excellent job at keeping us all dry and the last 12 months have seen a significant demand on their pumps and the electricity to run them. My view is this is an essential cost for all of us living in the Borough.
"We are also trying to boost our economic growth work and it was a great success for our team to have attracted Plant and Bean which brought us around 500 new jobs to the Borough. This shows if we are ambitious we can start to bring real prosperity to the Borough and create opportunities for our businesses and our people. I very much hope this continues with our Town Deal Funding bid which would offer the Council and other local partners the potential for £25m to be invested in the town. Wouldn't that be wonderful as a once in a lifetime investment after the terrible year we've all just had.
"This is all part of the Council's plans to start to become more ambitious for the Borough and I very much hope my colleagues will keep bringing forward these good news stories.
"We also need to deliver our day-to-day services too. Over recent years a lack of money has meant many service improvements have been hard to deliver. We took a big decision last July to align our staff with our neighbouring Council in East Lindsey. This has worked really well and we already have £400,000 of savings built into our budget going forward, and I have hopes that this figure will quickly double.
"You may also have heard of another big decision that Full Council agreed which was to move some of our support services into a local authority trading company with South Holland Council and East Lindsey Council. This is something important to our staff as it protects their jobs and gives them more opportunities for career advancement. Again, this will save the Council at least £1.8m over the next 10 years and means the public will soon see some much improved technology which will allow everyone to do business with the Council when it's convenient to them, as most modern Councils now offer.
Our next piece of work will be to bring forward, as soon as possible, a recovery plan for the Borough which should see us being able to offer additional funds to residents who have difficulty with their Council Tax, outlining how we will be using the £500,000 Community Champions Fund our staff have bid for, and which has been accepted, to help businesses get back up and running with possibly the potential for more events to boost Boston as a destination.
"If we deliver half of the growth and investment projects we are currently working on, I truly believe it will create a more vibrant future for Boston."
The budget is subject to Full Council approval which will be debated at 6.30pm on Monday 1st March. The full report can be found on the meeting's agenda at www.mybostonuk.com/public-notices