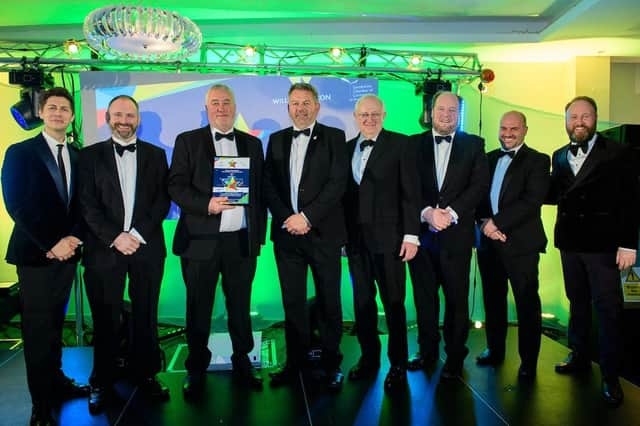 At the awards ceremony last week (Thursday February 2) North Kesteven District Council and builders Lindum Group were celebrated for the development at Windmill Gardens in Potterhanworth.
Built to the internationally-recognised Passivhaus standard, the properties are of the highest energy-efficient standard available in Europe.
The council has since adopted the rigorous principles of the Passivhaus standard for future new council homes, under the authority's CO2-Sy Homes standard.
The houses are significantly cheaper to run for the occupants, generally requiring about 75 per cent less heating than standard builds. This is because the homes achieve an extremely low level of air loss, which in turn ensures heat is retained inside. The homes also have solar panels, with electricity from them helping cut energy costs and the excess electricity produced by each home used to heat its water.
NKDC Leader Coun Richard Wright said: "We're incredibly proud that these homes are making such a positive impact.
"As a council we're committed to building new housing to the highest standards, both for the people living in them and for the climate.
"This development adds to the number of eco-friendly homes in North Kesteven and the council, Lindum Group and local contractors have all increased their knowledge by building to the expert Passivhaus accreditation. "We're pleased the site also features a dedicated biodiversity area and nature-friendly boosts like bug hotels and bird boxes.
"We are constantly seeking out new ways to help North Kesteven's residents live greener lifestyles, from implementing our new CO2-sy Homes standard to securing funding for private and council residents to benefit from energy efficiency and green measures."
Deputy Chief Executive of the Lincolnshire Chamber of Commerce Charlotte Watson said: "Our judges were really pleased to see a partnership approach that went beyond the minimum requirements and delivered a solution that adds real value to the end users.
"This was supported by a number of initiatives to improve the sustainability of their delivery and their product."
Lindum Group Managing Director, Freddie Chambers said: "We are so pleased that Windmill Gardens has picked up this award and feel it reflects excellent practical work by our team and the ambitious, forward-thinking approach of our client.
"North Kesteven District Council should be applauded for its commitment to creating affordable council homes while continuing to prioritise the climate emergency.
"Our organisations worked in partnership throughout the design and build of the houses, developing best practice and new ways of working as we went along. The result is a lovely community of modern, efficient, comfortable homes, which are helping to tackle fuel poverty in the district."
Feedback from the Passivhaus inspector was exceptional. Air flow tests as part of the final checks by independent inspectors found these eight new homes were within the top one per cent results for air tightness in the UK.
Space for wildlife is vital in fighting climate change and has proven wellbeing benefits for people, so a 25m x 12m mature space for biodiversity was retained untouched. The fencing between the adjoining field and the site was chosen specifically to allow free movement of small animals. Each home has either a butterfly house, bug house or bird box with associated detailing on the letterboxes to further forge this link, and a community tree planted
together with Lindum and representatives marked the site's completion.
The eight homes join two previous Passivhaus homes built by North Kesteven District Council in the district, and a number of other homes in the council's portfolio including eleven added recently with solar panels."