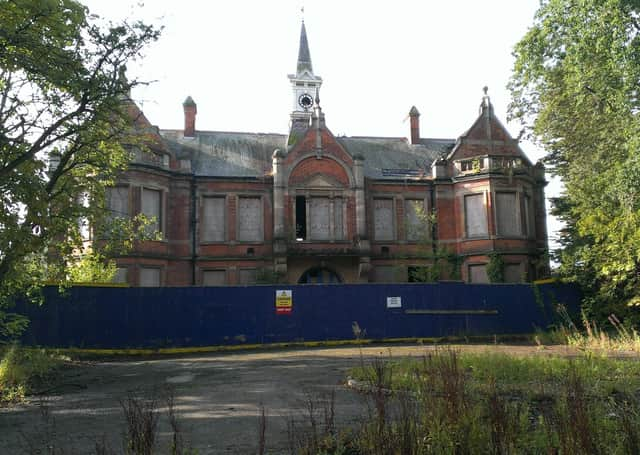 Previous owners Barratt had sought permission to demolish the century-old ward blocks of the historic former mental hospital to make way for more housing, only keeping the main administration block and some nurses' quarters and the conservatory, adding a community centre and shop.
This was blocked by North Kesteven District Council planners who claimed that it would cause too greater harm to the conservation area of the site and the ward blocks were not beyond saving. Barratt had claimed it would be unviable to keep any more of the building standing.
It has been announced that after years of tough negotiations the district council has assisted with the takeover of the old hospital site from Barratt by Invicta Developments of Stamford, who are promising a full redevelopment.
Invicta are understood to be intending to convert the old ward blocks to residential units, the construction of new builds and potentially offering the old administration building for flexible use of community/retail uses. The Standard will be speaking to managing director David Goodridge on his detailed plans for the site in the next few days.
North Kesteven District Council Leader Coun Richard Wright said: "We are pleased to learn a private sale of the former Rauceby Hospital Central Core site has been recently completed, and that the site is now under the ownership of Invicta Developments.
"The site forms the main part of the Rauceby Hospital Conservation Area, which has been on the Historic England 'Heritage At Risk' register for some time, and is located in the heart of the Greylees community. It has been subject to a number of redevelopment proposals in the past including one most recently dismissed by a Planning Inspector following a Public Inquiry in June 2017.
"No formal pre-application plans or planning application have been put forward to us by the new owner at this very early stage, but we are keen to ensure that unlike previous redevelopment plans the heritage significance of this substantial brownfield site is recognised and sits at the very core of any future proposals.
"We will continue to liaise with the new owner and provide advice and guidance on emerging plans including the need for engagement with the surrounding Greylees community and with heritage and other consultees as potential options for the future are shaped."