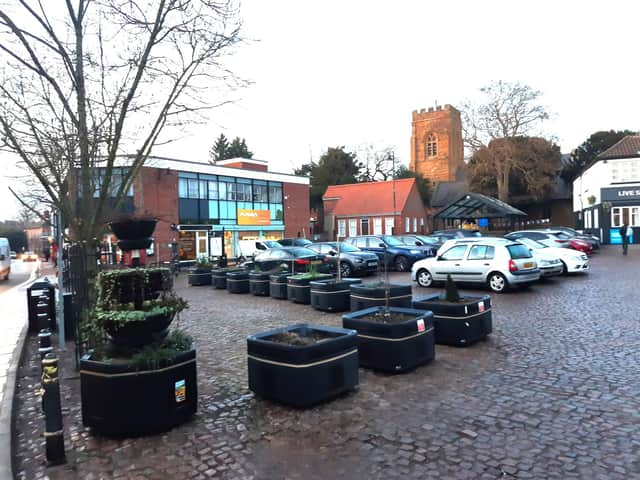 ​The future of Market Rasen's Market Place was the subject of heated debate at last week's town council meeting.
The Market Place was in private ownership and leased by the council until a public board loan was taken out to enable the council to purchase it last year and therefore have more control over its use.
Since then, there has been public consultation over the Market Place's future, with opinion split on whether it is open to car parking or vehicles should be completely banned.
However, a report presented at last week's meeting, showing a 'compromise' layout of the Market Place led to disagreement, with councillor Neil Taylor saying it was not something he had agreed to.
He said: "I really object most strongly that it be branded as a shoppers' car park.
"You have got a huge body of opinion in this town that wants no parking there. I never agreed to that and am disappointed to say the least."
Council chairman and town mayor, Stephen Bunney, said the idea was to provide parking for people so they could visit the shops hence the title, but added that this could be removed. Coun Bunney said: "We have had this discussion. The original plan put forward was to have parking in the middle and around the side and that was what was agreed."
However, Coun Taylor said that was a plan, but never the plan, adding: "What is the point of us buying the Market Place when we are just going to keep it as a car park when that wasn't the original intention."
​Fellow councillor Jo Pilley backed Coun Taylor's views.
She said: "We have had so many meetings about the Market Place, you can go dizzy looking at all the reports.
"Prior to us looking at it seriously and actually obtaining the Market Place, the idea was mooted that we were going to have a piazza-style environment for the community, for people to use recreationally and for events etc. Maybe a little bit of parking on the periphery.
"We had an awful lot of plans… None of them implied we were going to forget about the original idea of having a piazza-style."
Coun Bunney said that he understood what was being said and that although debate could be had, the decision had now been made.
He continued: "The debate on the Market Place has been going on for a very long time.
"We had the [public consultation] meeting in the hall and as a result of that meeting some plans were drawn up and those are the ones which have been progressed.
"Now, if the council has been misled, I apologise, I am not quite sure where it has gone wrong, but there has always been this tension between the two [opinions over the Market Place].
"We came out of that [public] meeting and wrote a report; we might not have used the word shoppers, I will accept that, but the whole plan was done as a matter of bringing the whole collection [of views] and getting a compromise out of it.
"If we are going to bring it up at each council meeting, we need to review the whole project and we can start again, but I don't think that should happen until 2025, which is the review date the program has put forward."