Councillors defer decision on lowering A15 speed limit
Councillors have deferred a decision to reduce the speed on a section of the A15 between Sleaford and Lincoln after concerns a 40mph limit would be unreasonable.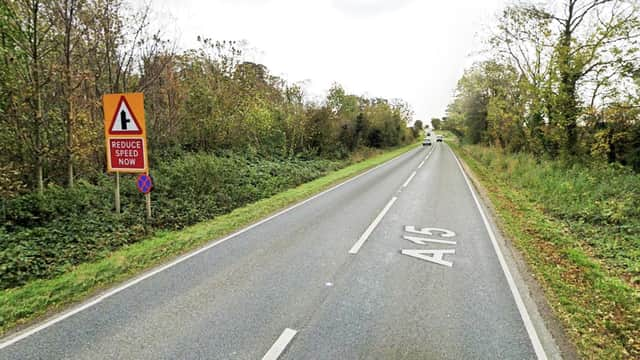 The proposed change, which would see the speed limit drop from 60mph to 40mph between Harmston crossroads and Green Man Road south of Waddington, sparked concern during Monday's meeting of Lincolnshire County Council's Planning and Regulation Committee.
Council leader Councillor Martin Hill expressed surprise at the recommendation, especially considering the recent installation of a 50mph limit at Leasingham.
"I find very surprising for one of the main arterial routes through the county that we are proposing to put it down to 40mph.
"I would accept that those who know that road, there is an issue there with people going East to West who abuse the dog leg on the A15," he said.
He noted average speed cameras along the road, which he said would catch people feeling particularly confident at night.
"I think most people would feel that 50mph would seem to be a reasonable compromise," he said.
"In general, I'm getting more concerned about where speed limits are being put in recently, how many people are actually taking any notice of them?"
He said other council members who had contacted him had expressed a similar view.
He said: "The A15 is an artery through Lincolnshire's economic development.
"This section of road seems a little strange that the B1188 going through Branston and all the various villages has got a 50mph on it, yet you end up with a main artery where there are so many villages along it and the proposal is to take it to 40mph?"
Coun Fleetwood later raised concerns about displacing drivers, fearing that a 40mph limit would see motorists take alternative, riskier routes.
Richard Fenwick, Head of Highways, clarified that the average speed is the primary reason for the proposal, and any changes would still require a full public consultation.
Coun Marianne Overton, representing Navenby, said: "When I saw 40mph I was surprised.
"It did feel it was out of kilter. When you look at the A607 it had as high an accident rate.
"We made those changes to the junctions which helped. We also made changes to the speed limit bringing it down to 50mph and that has helped.
"If we want things to be consistent, you would put 50 there. If we want them to be enforceable, they have to make sense to local people."
Additionally, Coun Overton emphasised the need to separately assess the junctions on the A15 to determine if they could be made safer.
Coun Tom Smith told members: "There is not a cat in hell's chance that people will do 40mph along that stretch.
"There are issues with the junctions on that stretch… that is what the problem is, not the issue of speed."
A report before councillors highlighted that the proposal followed 27 reported injury accidents over the past five years on this specific section of the A15.
The decision to review the speed limit was also influenced by the Lincolnshire Road Safety Partnership's request for an area assessment.
Speed surveys in the region showed average traffic speeds ranging from 42-45mph.
The report anticipated improved road safety with the introduction of the new speed limit.
Steve Batchelor, from the LRSP said: "Lincolnshire County Council has a small engineering team based at Lincolnshire Road Safety Partnership. Part of their role is to analyse the road network and identify locations that have a recent history of collisions.
"Whilst reviewing a site or route, on occasion, we may ask if the speed limit for that area can be assessed in line with Lincolnshire County Council's speed limit policy.
"There will often be pros and cons to consider when reviewing speed limits and that is why Lincolnshire County Council's Planning and Regulation Committee provide the necessary political oversight to consider these factors."
Council officers will now carry out further investigations before bringing the proposal back to a future committee.