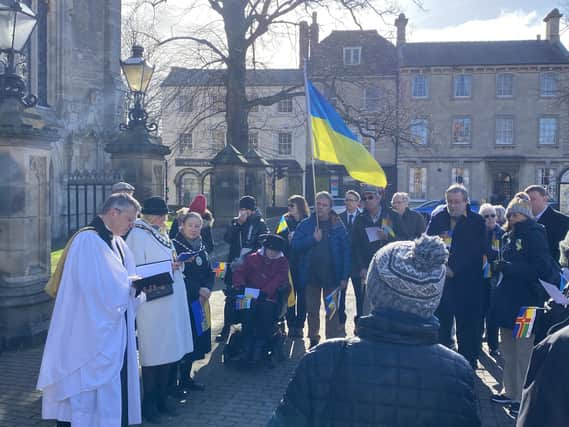 An event was held on Friday morning in Sleaford Marketplace, with a service led by the Vicar of Sleaford, Rev Philip Johnson, and including the laying of flowers by the chairman of North Kesteven District Council and the Mayor of Sleaford.
Around 70 people attended and a national one minute silence also took place at 11am .
Since March last year almost 180 Ukrainians have made North Kesteven their temporary home under the Homes for Ukraine scheme, and 1,200 in total across Lincolnshire .
People arriving under the scheme are able to live and work in the UK for up to three years, and access healthcare, public funds, employment and other support. Now, almost a year since the national sponsorship scheme launched, there are still 350 hosts providing a home to their Ukrainian guests across Lincolnshire. Throughout the county over 70 family groups have successfully made the move into private rental accommodation or on to other parts of the UK.
The Lincolnshire Resettlement Partnership is strongly appealing for new hosts to come forward. They are particularly interested in hearing from people who live within the district's bigger villages and towns, where there is good access to public transport and other amenities.
Anyone can consider hosting as long as they can offer accommodation for at least six months, and those who are successfully matched to Ukrainian guests are offered a £350 per month 'thank you' payment, rising to £500 a month for guests who have been in the country for over a year.
Jonny Hoare and his wife Emma from Rauceby have hosted two families. Jonny said: "Helping people to help themselves is extremely rewarding. If you care about humanity then why wouldn't you? You will also be left with some amazing memories and possibly even friends for life."
Visit https://lincolnshire.connecttosupport.org/advice-for-ukrainian-arrivals/sign-up-as-a-host/