East Lindsey District Council election candidates in Louth and Horncastle areas named
Candidates that will be contesting wards on East Lindsey District Council have been announced.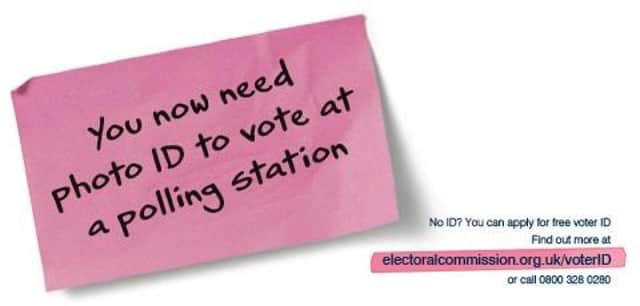 Elections to select district councillors to represent the communities of East Lindsey will be held on Thursday, May 4.
There were six district wards where there will be no election to select the district councillor as there were insufficient nominations made to contest the number of seats within the ward.
These were: Coningsby & Mareham, Fulstow, Halton Holegate, Horncastle, Roughton, and Sibsey & Stickney.
Polling stations will be open from 7am to 10pm, or if you are unable to attend your designated polling station, you can choose to vote by post or proxy.
New postal vote applications need to be submitted by 5pm on Tuesday 18 April, and new proxy vote applications need to be received by 5pm on Tuesday 25 April
For the first time this year, voters will need to bring photographic ID with them to the polling station.
Rob Barlow, Returning Officer for East Lindsey District Council, said: "It is really important you take the time to decide who you want as your local councillor and to vote on Thursday 4 May. Make your vote count and have a say on who gets to represent you for the next four years."
Here are the candidates nominated for election as a District Councillor in the following ELDC wards in the Louth and Horncastle areas:
Hoyles, David Richard – Labour Party
Knowles, Terry – Independent
Fisher, Paul – Green Party
Powell, David – Independent
Holton Le Clay & North Thoresby
Aldridge, Terry – Independent
Smith, Phyll – Labour Party
Filer, Hannah – Labour Party
Grist, Adam – Conservative Party
Arnold, Claire Elizabeth – Labour Party
Clark, Victor – Conservative Party
Cullen, Graham Edward – Labour Party
Marnoch, Kate – Labour Party
Tebbutt, Carl Ian – Conservative Party
Marsh Chapel & Somercotes
McNally, Daniel – Conservative Party
Midgley, Patricia Maureen
Mossop, Freddie William – Labour Party
Poskitt, Helena – Independent
Rickett, Paul John – Conservative Party Candidate
Corbitt, Kirsty – Conservative Party Candidate
Hall, David – Labour Party
Parsons, Karen Elizabeth – Independent
Cooney, Lynne Marie – Independent
Hobson, Darren Lee – Independent Wood Christine A
Leonard, Andrew – Independent
Watson, Pauline Frances – Conservative Party
Mangion, David – Conservative Party
Marsh, Ellie – Independent
Kemp, Sam – Conservative Party
Watkins, Hannah – Labour Party
Makinson-Sanders, Jill – Independent
Watson, Stuart – Conservative Party
Horton, George Edward – Independent
Stephenson, Laura Marie – Labour Party
Benjamin, Adrian Victor – Conservative Party
Bristow, Stef – Independent
Matthews, Helen Angela – Conservative Party
Watson, Robert William – Green Party
Andrews, David George – Conservative Party
Simpson, Daniel Anthony – Independent
Skipworth, Peter Edward – Green Party
Lyons, Christopher – Labour Party
McMillan, Steve – Independent
Jackson, Ros – Labour Party
Bailey, Isaac George – Labour Party Stephens
Harrison, Sandra – Conservative Party Candidate
Hesketh, Travis – Independent
Holland, Steve – Labour Party
Kemp, Thomas James – Conservative Party Candidate
Leyland, Craig James – Conservative Party Candidate
Sanderson, John – Independent
Shaw, Becky – Independent
Wright, Ellen – Labour Party
Matthews, Sean Roger – Reform UK
Platt, Julie – Conservative Party Candidate
Yarsely, Ru – Independent