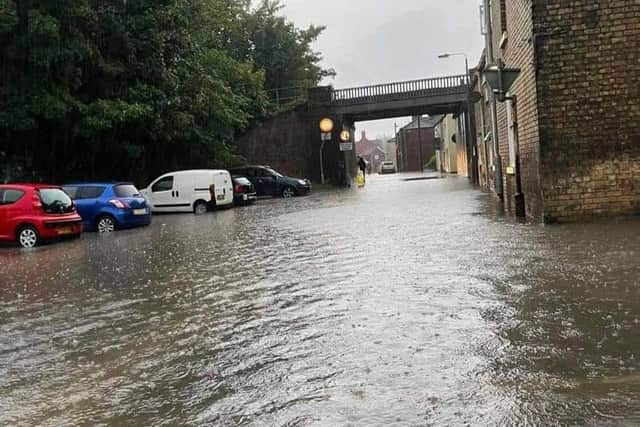 The heavy rainfall in the past few weeks has led to surface water flooding, raising concerns about the effectiveness of the existing flood management systems.
Residents have been left anxious and stressed due to the repeated floods.
At a meeting on Monday, Councillor Colin Davie, the Portfolio Holder for Environment at Lincolnshire County Council, highlighted "exceptional" rainfall that occurred on May 5 inundating Great Carlton, Little Carlton, and Manby in East Lindsey.
The recorded rainfall totals were 151mm in Great Carlton, 126mm in Little Carlton, and 50mm in Manby. The deluge overwhelmed the existing systems and assets, resulting in significant surface water flooding.
Market Rasen and Middle Rasen were hit by another episode of intense rainfall on May 11, causing additional incidents of surface water flooding.
Although no cases of indoor flooding were reported, Councillor Stephen Bunney (Market Rasen Wolds) called for quicker action to safeguard the community.
"As the intensity of these storms continues, they're going to carry on causing considerable stress and mental health and wellbeing issues for some residents," he said.
He urged collaboration with partners to address the issue, emphasising the need for a quicker pace in implementing protective measures.
Colin Davie acknowledged the frequency of intense rainfall events, adding: "These kinds of intense rainfall events are probably going to become more frequent, not less, and I don't disagree with you in terms of mental health issues."
Cllr Davie also drew attention to the lingering effects of previous floods, mentioning the ongoing challenges faced by some people in Wainfleet.
While acknowledging the importance of government climate and environmental targets for 2050, he stressed the need to balance that with current challenges.
He also urged comprehensive infrastructure planning from the outset to mitigate vulnerabilities.
Speaking after the meeting, Coun Bunney said: "I fully agree with CounDavie's views on both providing resources to undertake flood alleviation projects in our local areas and on his views in tightening the planning process.
"I trust that he and other executive members of LCC will get behind the comments and deliver as soon as possible.
"If Central Government is not forthcoming, they will need to release LCC reserves for this work."