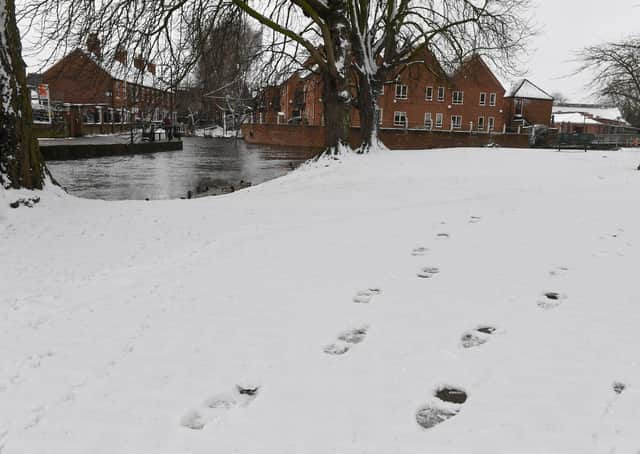 Few tracks by Eastgate Green and the river in Sleaford. EMN-210802-125842001
An NKDC spokesman explained: "Our focus is on using all of our available crew to collect black bins; rather than putting crew at additional risk driving the whole route in these snowy conditions to collect what we anticipate to be a small number of brown garden waste bins.
"We will not be able to return for any garden waste bins that have been presented and not emptied. The next collection will be as scheduled."
They add: "We are sorry for this action, but hope residents agree that it is important that the crew can focus fully on clearing household waste at this time, given the additional time constraints in operating safely in the snow. Additionally we need to build in time for routine key worker virus tests for the crew and office staff to ensure they are fit and able to maintain the safe operation of your waste services."
Ducks keep away from the snow. EMN-210802-125832001
Whether the council has to suspend further garden waste collections later in the week will be subject to review. Updates will be posted on social media channels and on their website at is https://www.n-kesteven.gov.uk/current-service-disruptions/Residents can sign up to receive information about service disruption by email: www.n-kesteven.gov.uk/stayconnected
New Street under snow. EMN-210802-125822001
Sleaford Leisure Centre and the Slea. EMN-210802-125811001
A view from the footbridge by the Sleaford Leisure Centre. EMN-210802-125800001
Snow cover at The Nettles. EMN-210802-125749001
River Slea. EMN-210802-125738001
River Slea. EMN-210802-125727001
A relatively clear riverside path through the snow. EMN-210802-125716001
Snow dusted River Slea. EMN-210802-125705001
Lollycocks Field, Sleaford. EMN-210802-125654001
Lollycocks Field. EMN-210802-125643001
The view at the River Slea. EMN-210802-125632001
Louise Hayward of Sleaford with William Hayward 11 and dog Timmy. EMN-210802-125621001
East Banks by the River Slea. EMN-210802-125610001
Boston Road, Sleaford. EMN-210802-125559001
Fresh snow on Boston Road Recreation Ground. EMN-210802-125548001
Ramps but no sledges on Boston Road Recreation Ground. EMN-210802-125538001
Lilly-Jane Oughton 5 with 14-week-old puppy, Daisy. EMN-210802-125528001
Snowfall on the River Slea. EMN-210802-125517001
Snow in Sleaford Market Place. EMN-210802-125506001