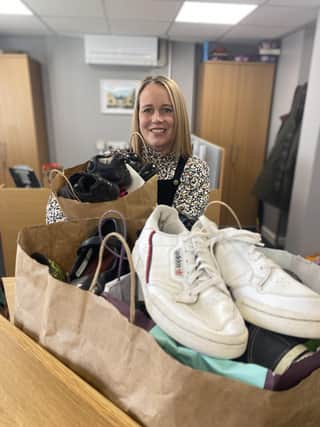 In response to North Kesteven District Council's call on Holocaust Memorial Day for residents to put themselves into the shoes of those who have suffered – and continue to suffer – the consequences of prejudice and hate, 92 pairs of shoes have been gifted to be used to spread humanitarian aid and help those in greatest need.
The children's shoes have been handed to the William Alvey School in Sleaford where they will be buffed, boxed and passed on to families who otherwise find it hard to keep up with the costs and pace of growing feet.
The worn adult shoes which are suitable for resale are being put on display at the British Red Cross shop in Sleaford, complete with the many moving dedications attached to them when they were laid in tribute by councillors, colleagues and members of the community at the district council offices and at the Hub over the period of the Holocaust Memorial.
In some cases, the shoes have never been worn and in others they are so well worn that they will find their way into a materials recycling process, the proceeds of which will still be directed towards the Red Cross's charitable and humanitarian aid in the UK and overseas, including in support of Ukrainians who have fled for their safety.
Council Leader Coun Richard Wright, who led the shoe-laying commemoration, said: "The generosity of the response and the manner in which people engaged in this important remembrance shows how, by understanding the plight of others, having awareness of their journeys and making the right choices with regard to the marginalised or misrepresented, ordinary people today can achieve extraordinary things through their actions."
The British Red Cross states, 'a small act of kindness can change someone's life'.
Coun Wright went on: "Kindness comes in many forms and there's something every single one of us can do through the power of kindness; whether that is through the gift of these shoes, by standing up to hatred, speaking out against intolerance or taking action in support of those displaced from their countries by hatred, hostility and war.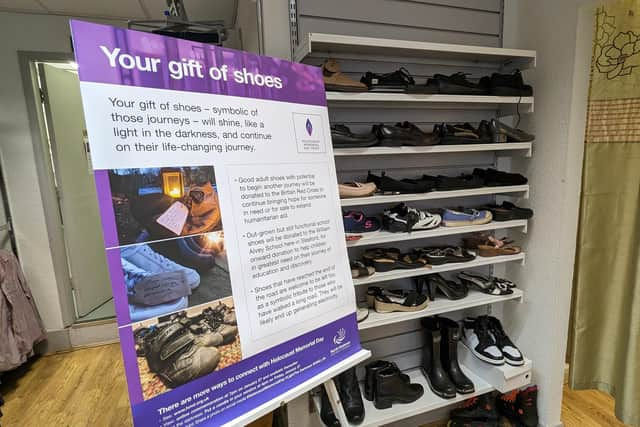 "Such kindness and empathy characterises life in North Kesteven and as we embrace diversity, challenge racism and work to combat prejudice, we are building stronger, more cohesive, considerate and collaborative communities," said Coun Wright.
People were invited to write notes describing their shoes' journey or commending them to others. With messages such as 'remembering and honouring all those children who never got the chance to outgrow their shoes', 'well-worn shoes are the sign of a life fulfilled; not to have worn them out is a sadness that walks through generations'; 'these shoes changed my perspective' and 'these shoes carried me to a new life', a strong connection was made with the journeys millions of ordinary people have been on.
Coun Wright continued: "The Holocaust Memorial Day Trust's theme for 2023 was 'ordinary people'. In our response, we have been prompted to consider how, as ordinary people, we can perhaps play a bigger part than we might imagine in challenging prejudice today.
"As ordinary people today, who can be extraordinary in our actions, we can all make decisions to challenge prejudice, stand up to hatred, to speak out against identity-based persecution, to shop responsibly and to effect positive change."