Lincolnshire could see devolution decision in Chancellor's Autumn statement
A devolution deal for Lincolnshire is expected to be announced by the Chancellor on Wednesday, alongside a similar offer for neighbouring Humberside.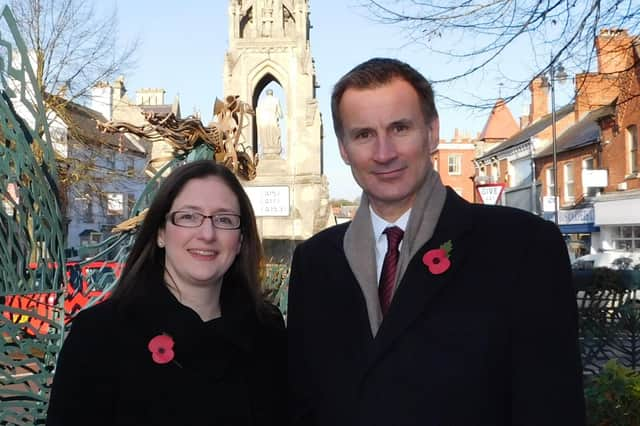 This means that Lincolnshire would have to elect a mayor to oversee what is expected to be tens of millions of pounds extra funding for the county.
Though the local councils themselves are keeping tight-lipped, Lincoln MP Karl McCartney, however, expects a devolution deal for Greater Lincolnshire will be announced by Chancellor Jeremy Hunt during his Autumn statement this week.
Lincolnshire has been vying for a deal for several years now, but missed out on the latest round of deals earlier this year.
If successful, devolution would introduce an additional layer of authority led by a directly-elected Lincolnshire mayor, on top of both the county and district councils, as well as the unitary authorities of North and North East Lincolnshire.
Some Yorkshire leaders have already expressed confidence in their area's prospects.
The leader of East Riding Conservative Council, Councillor Anne Handley told the BBC that a deal for her area, along with Hull, was "on the table" and "the right way forward" for the region, sparking hopes that others could also be announced during the November 22 statement in the House of Commons.
Conservative Lincoln MP Karl McCartney said: "I hope that the Chancellor announces that there will be devolution for Greater Lincolnshire."
He described the move as a "huge opportunity that should be met with open arms," and said he would "fully endorse and support it".
"It will also lead to more funding, more powers to make big decisions locally and create a clear champion for our wonderful county," he added.
Jacob Young, the Parliamentary Under-Secretary of State in the Department for Levelling Up, Housing and Communities, which includes the remit of devolution and county deals, dropped hints when he responded to Lincolnshire MPs on Monday in the House of Commons.
Conservative Gainsborough MP Sir Edward Leigh, continuing his defence of RAF Scampton against Home Office plans for an asylum camp, raised the risk of losing £300 million in private sector funding in his constituency and requested a meeting with the minister.
"For instance, the roof of the officers' mess alone will cost half a million pounds. The roofs of the hangars are decaying. The site will not be viable unless private sector investment is unleashed, and the Home Office proceeds with it," he said.
Jacob Young agreed to meet, telling Sir Edward: "One of the key ways to unlock private investment in the Greater Lincolnshire area is to progress with the devolution deal. I shall be delighted to meet him to discuss that further."
It is understood, though not confirmed, that Lincolnshire County Council could be set to discuss a potential deal at a Full Council meeting on December 1.
However, asked for confirmation, further details, and comments from council leaders, a spokesperson for the authority said: "We won't be able to make any statement until a government announcement."
The position was backed by North East Lincolnshire Council representatives.
Lincolnshire failed at devolution in 2016 because council leaders at Lincolnshire County Council and South Kesteven District Council did not want a mayor as an additional layer of bureaucracy.
At the time, more than 4,000 residents took part in a County Council-led consultation, with most local people backing devolution in principle.
Around 59% of respondents supported pursuing greater powers. However, 49% opposed the idea of a Mayoral Combined Authority – a new body headed by a directly elected mayor.
Then, in February 2023, Lincolnshire missed out on another round of devolution negotiations, but then-Prime Minister Boris Johnson said that the government was keen for Lincolnshire to have its own deal.
This time, there is no option — the Government indicated that the devolution of any significant powers or funding will require a directly elected mayor.
Two further deals were announced by the government in December 2022 for Norfolk and Suffolk, who would not just gain new powers but about £20 million a year extra in funding.
Under the latest devolution deal, a new layer of authority led by a directly-elected mayor would be created over the top three upper tiers of Lincolnshire, North Lincolnshire, and North East Lincolnshire.
It is understood that districts are generally supportive of the latest plans, but there have been concerns in the past that the move would lead to local government reorganisation and the dissolution of lower-tier authorities.
Councillors will be waiting with bated breath to see what the Chancellor says during his statement on Wednesday at 12.30pm.