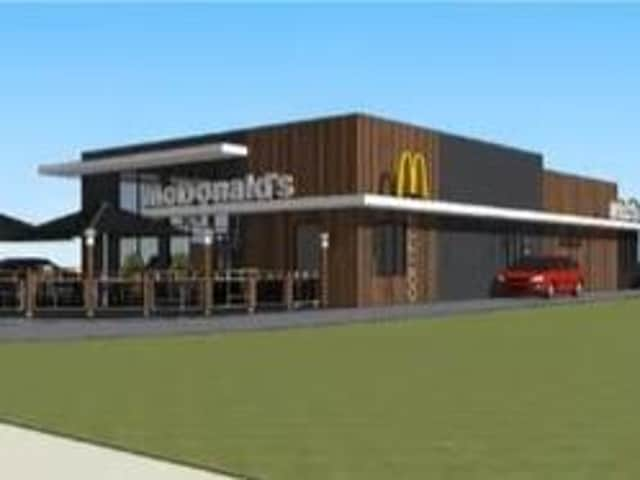 Members of Boston Council's planning committee agreed to the application for the restaurant opposite the Westbridge Road roundabout, which will create 65 new jobs.
Ward councillor Richard Austin said the development would greatly increase the amount of litter distributed in a large area around the site.
And he was backed by the council's portfolio holder for the environment, Coun Yvonne Stevens, who urged a representative of McDonald's at the meeting to take back a request to the fast food giant that car registration numbers be stamped on packaging and wrappings.
But the committee's chair, Coun Tom Ashton, said it wasn't a planning issue, and the committee should not spend too much time on issues it couldn't control.
Coun Austin, who was given leave to address the committee as local ward councillor, said "There is huge public concern about litter from drive thru restaurants.
"Those who do litter picking will know drive thru restaurants are a main source of litter and are a desecration to the area.
"All drive thru restaurants should stamp vehicle registration numbers on packaging. This committee should send a very strong message to McDonald's pointing out the great public concern on this issue, and they should take wahtaever vigorous steps they can to reduce littering habits of some of their customers."
Coun Austin also raised concerns about tailbacks on the A52 caused by traffic turning into the restaurant, and the issue of nearby West End Road, part of which lacks a cycle track or footpath.
Coun Stevens said she had seen paper and wrapping from McDonald's at beauty spots around the Boston district, and asked if the committee could put forward calls for containers to be made biodegradable and to be stamped with details of car registration numbers.
Paul Thomas from McDonald's said littering was a criminal offence and they gave customers as much opportunity as possible to dispose of packaging correctly.
"We will continue to explore this. It is something we are passionate about. We have had conversations on number plates on receipts, but there is are question marks on GDPR that go with that, and there are problems in terms of proof."
He said it was possible for receipts and packaging to be placed in a bin and then blown away by wind, for example.
The restaurant, which will take around 14 weeks to build, is expected to employ over 65 full-time and part-time staff from the local area and will be able to seat 136 people and have 48 vehicles in the car park.
It was backed by all members of the committee, except Coun Stevens, who abstained.
The restaurant will be the town's second McDonald's, with the next nearest in Sutterton.
The existing one off Queen Street is often complained about by residents due to traffic, which in busy times queues back around the car park and onto the main roads