Parish council's fury over sports club failures
A Pointon parish councillor has refused to resign after being reprimanded by angry colleagues for being at the centre of a mix-up which led to a hefty unauthorised bill for resurfacing the drive to the village's sports field.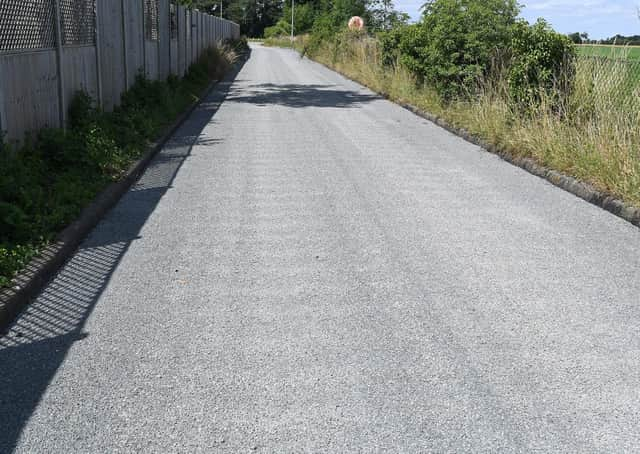 Pointon Sports field entrance, new tarmac. EMN-200928-191056001
An extraordinary meeting was called in July after Coun Roy Greenwood was approached by a representative of a road resurfacing company called Highways Group.
Coun Greenwood is also involved in the running of the playing field and sports and social club, which is ultimately owned by the parish council. He explained at the time: "A guy turned up at the club and said he was from 'highways'. He said they were doing some work in Donington and they may have some chippings left over which we could have. I said yes, that would be fine."
Coun Greenwood then contacted council chairman Chris South the next day to say the road gang had turned up and was already halfway through doing the work. By the time Coun South calculated the bill would run into thousands, it was too late to stop them. The council elected not to pay the £4,320 bill, as it had not authorised the work.
A representative of Highways Group later contacted Coun Greenwood who paid the bill on behalf of the sports club at a discounted rate due to the misunderstsanding. This was partly paid for from a £10,000 grant given by South Kesteven District Council to support sports clubs impacted by the Covid-19 restrictions.
However, at last Thursday's parish council meeting, Deputy Chairman Coun Clive Burt called Coun Greenwood to account for overstepping his authority and ordering the works without council permission. He said that Lincolnshire Trading Standards officers were also looking into the circumstances.
Coun Burt said: "You have not got the other councillors' permission to even consider a contract and that is the issue."
Coun Greenwood admitted: "It is my fault. I take responsibility.
"It was an opportunity to do something good for the parish, shouldn't we all stick together?"
Members moved on to a recent health and safety inspection of the sport and social clubhouse which deemed it to be in poor condition, both inside and out, due to lack of maintenance of walls, electrics and kitchen, breaching the lease agreement with the parish council. Nor had the council received accurate audited accounts for several years, something it needed for its own records as a landlord.
Coun Greenwood claimed he had submitted them, but clerk Carol McKenzie said she had only received a bank statement. Nor had she seen copies of building and contents insurance, electrical testing, risk assessments, licensing or food and hygiene certification, accurate minutes of meetings or a list of committee members.
Coun Greenwood said the sports and social club has now closed and ended its lease. He refused to resign for the failures, but offered to hand over whatever paperwork he had in his possession saying he had "nothing to hide".
Councillors agreed to calculate all costs to make the building safe and insurable in case it was a viable option. It was suggested the football club may have to find temporary alternative toilets.
The council also requested Coun Greenwood's old truck with a 'cherry picker' be removed from the site as it had been condemned by the inspection.
Councillors heard of a "damning" RoSPA report on the children's play equipment. Coun South added that many of the issues may eventually be resolved by a steering group of villagers who had been drawing up proposals for a new sports and community hub.