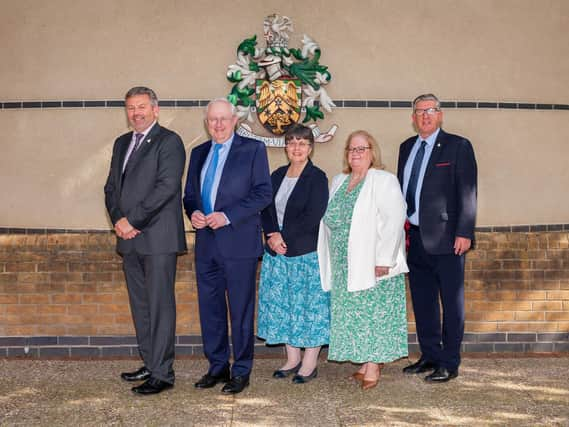 The representative for Ruskington ward reassumed the position during Tuesday's annual meeting, pledging to continue his strong track record.
"We are a council that has clarity of purpose; we invest in the things that matter to local people; and we make a positive difference for our communities," he said in his address.
"It is an honour and a privilege to lead this high-performing council, that has such a significant track record of achievement."
Coun Wright will pick up the brief of business development and the economy on the Executive Board.
Deputy Leader Ian Carrington (Conservative was also re-elected with a portfolio covering housing, while councillors Mike Clarke and Andrew Hagues (both Conservative) took on the roles of Chairman and Vice Chairman respectively.
Completing the council's Executive Board are Coun Sally Tarry (Conservative), who will be responsible for Communities; newly elected Coun Mark Smith (Conservative), who has been assigned to Environment and Waste; and Coun Mary Green (Conservative), who will act as the officer for finance and democracy, all of whom bring with them "a wealth of knowledge from their working lives and a burning ambition to do well for this authority," Coun Wright said.
In contrast with the national trend, the number of Conservatives elected in North Kesteven increased over the previous full council election in 2019. The party now holds 25 of the 43 available seats.
They take control of the council through the North Kesteven Conservative Group, which is a change to the position of the past four years where the Conservatives emerged from the election with 21 members and chose to work with some independent and Lincolnshire Independent members in an 'administration group'.
Coun Wright said achievements over the past four years included increasing the number of quality homes available to rent; building quality homes to highly-efficient Passivhaus standard; pursuing a commitment to climate action from aspiration into delivery; investing in the economy to create the jobs the area needs; redevelopment of the Hub; and rising to the 'significant challenges of a global pandemic, economic uncertainty and a cost-of-living crisis'.
"I genuinely believe we went the extra mile to ensure fantastic service to our communities through an extended period of extreme challenge. And we will continue to assist those still in need," said Coun Wright. "With a vision and strategic focus rooted in the United Nations' Sustainable Development Goals for 2030, informing support and promotion of a district of Flourishing Communities and a commitment to advance climate action, he said:
"We will continue to focus our £250m ten-year capital investment programme to create the decent homes our communities need, to retrofit intelligently our social housing stock and to deliver projects as diverse Sleaford Moor, our regeneration ambitions for Sleaford, and our plans for Cranwell Aviation Heritage Museum."
"The future is out there. It is ours to shape. It's a responsibility we hold: to serve our communities well; to deliver the services that our people need; to create the places where people want to live and work and achieve a sustainable planet for those that will follow us. The work starts afresh, today," Coun Wright concluded in his speech to council.
Coun Richard Wright emphasised the importance of reaching net zero carbon emissions by 2030. Given the threat of climate change, he has promised to elect a Sustainability Champion who will work alongside the likes of the sustainability team, local parish councils and outside bodies such as UK100.
"We have to acknowledge that the carbon budget for our area will be exhausted before the district council election at current levels," he said during his address to the council.
"We need to see rapid and immediate reductions in greenhouse gas emissions and the time for action is now."
Following the meeting, he continued: "We've got to make sure that our financial position is sound in these times of uncertainty, but we want to make sure that we press ahead with our sustainability goals."
In recent months, proposals to build multiple large-scale solar farms near Sleaford have sparked controversy among councillors and residents alike.
Coun Wright later stressed the importance of selecting appropriate locations and scales for these developments.
He added: "It's not a case of allowing solar farms to just be widespread across the entire county.
"It will come down to which is the most appropriate because what is being ignored at the moment is that it's got to be about grid capacity."
Within the new Council, the 25 Conservative councillors are joined in the Council Chamber by 11 Lincolnshire Independents, five independent councillors and – for the first time in almost 20 years – two Labour councillors. All will represent their communities and take their allocation on committees, panels and groups to represent the wider district as a whole.
Fourteen of the 43 are newly-elected, one resumes after a four-year break and 28 are returning, having served during the previous term.
In order to rebalance the representation of councillors to population size, the May 4 elections saw significant changes to the boundaries of some of the ward areas which the councillors represent and in some cases the numbers of councillors representing each ward.
This year also saw the full introduction of the Voter ID requirement. In total there were only 18 people who were not issued with a ballot paper because they did not present one of the accepted IDs. Another 18 returned with what was needed after initially turning up without their ID. This means that 99.9 per cent of polling station attendees competed their ballot and shows that 99.8 per cent were aware of what was required.