Revised plans for Woodall Spa leisure park
Revived plans for Woodhall Spa leisure park on disused quarry site v.1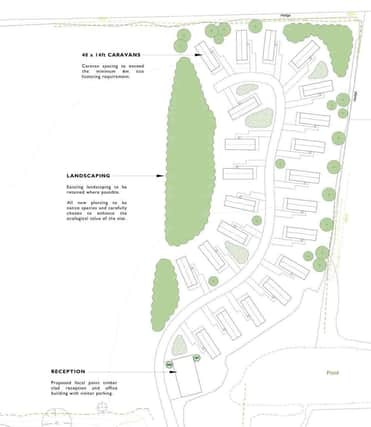 Despite opposition to a previous proposal, plans to build a new leisure park on a former sand quarry near Woodhall Spa have resurfaced.
The initial project aimed to build 88 lodges on the abandoned site but never came to pass. However, a restructured application proposing the placement of 22 caravans has now been presented to East Lindsey District Council.
Developers argue that the land, located at the junction of Kirkby Lane and Wellsyke Lane, is ideally suited for the project, as the quarry has been unused for over 40 years and is sufficiently concealed so as not to disturb local residents.
In their Design & Access Statement, they elaborated: "The site is well screened from the public highway on the western and southern boundaries, but will necessitate significant landscaping on the northern and eastern borders.
"The quarry is quite deep and this alone estimates the long views into the site alongside the extensive mature planting which already exists.
"It is also proposed to reuse many sapling trees in the quarry floor to bolster the landscaping whilst carefully retaining and managing the existing mature planting respecting the biodiversity afforded by this planting.
"All landscaping will be delivered through a planning condition and in strict accordance with the proposed landscaping scheme designed to assimilate the proposed lodge into the distinctive rural character of the area which includes many silver birch trees."
Artists' impressions of the site depict caravans arranged around two ponds in a wooded area, with an access road branching off Kirkby Way leading to a reception building.
For easy access to Woodhall Spa, a shuttle bus service will be provided for residents.
Within just a few days of the application's appearance on the council's planning portal, it has already elicited its first objection.
Karen Roth, of Wellsyke Lane, insists that the number of caravans will inevitably escalate over time.
"Nothing has changed from our objections last year when the previous quarry planning application was withdrawn by the applicant," she said.
The application will be determined by East Lindsey District Council at a future date.