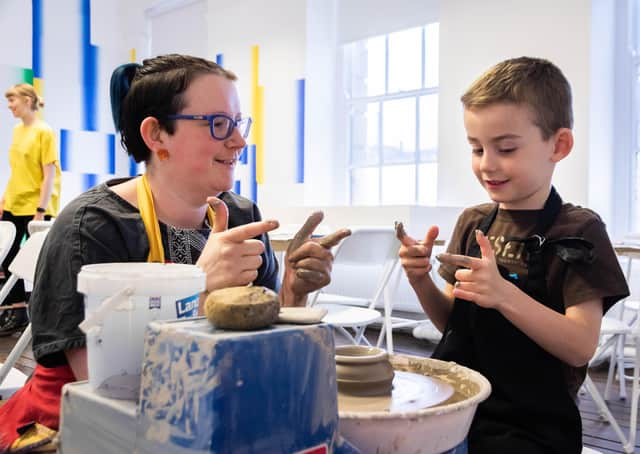 North Kesteven District Council has secured a grant to support Lincs Inspire, who are contracted to run the National Centre for Craft and Design in the town on behalf of the authority, as they transition back to a viable and sustainable operating model.
In advance of the re-opening of the refurbished and extended NCCD as a one-stop creative hub, in line with Stage 3 of the Covid-recovery roadmap from mid-May, the council has secured a grant to ensure safe, vibrant and fully-accessible open-door arts provision, as well an even wider NK arts offer.
Final touches are being applied to the £1.2m refurbishment of the NCCD, to provide an enlarged café and downstairs studio, gallery and exhibition space, re-order the way the centre functions internally, offer outdoor seating and more
Council Chief Executive Ian Fytche said: "We are very grateful for the financial support and the ongoing recognition of the excellent and high-profile arts and cultural outreach we continue to provide with the support of Arts Council England and our partners Lincs Inspire.
"The award of £56,986 from within the £1.57bn Cultural Recovery Fund extends our long history working in partnership with ACE and reinforces our ongoing commitment to, and investment in, arts and culture.
"As we move towards the re-opening of our principle arts venue, the National Centre for Craft and Design in Sleaford which enjoys ACE's national portfolio status, following a £1.2m extension and re-modelling programme, this additional
support is a great benefit in transitioning towards a vibrant and viable operating model.
"Throughout the past year, the NCCD and wider arts offer has evolved and adapted to ensure ongoing lively and engaging creative provision online, virtually and remotely across the arts, crafts and dance through workshops, exhibitions
and participatory sessions.
"In North Kesteven, we are very much 'here for culture' and very much look forward to re-opening our doors on our refurbished creative Hub and welcoming participants and visitors back safely in mid-May."
Throughout the pandemic, the National Centre for Craft and Design has continued to deliver extensive artistic and engagement programmes online, including virtual exhibitions, arts clubs, Arts Award, dance classes, professional-led workshops and new online shop.
North Kesteven District Council is among more than 2,700 recipients to benefit from this latest round of awards from the £1.57bn Culture Recover Fund; with more than £300 million awarded to thousands of cultural organisations across the country such as the NCCD and English Heritage.
Over £20 million has been awarded to organisations in the East Midlands in this latest round of funding, building on over £40 million already awarded from the Culture Recovery Fund to organisations in the region.
A number of key cultural venues in the East Midlands are set to receive funding announced today.
Local cinemas are also amongst those who will receive funding. Loewen in Sutton on Sea, for example, will be awarded £14,326 to help with reopening. This grant will enable the cinema to continue its work with the community, offering events for disabled and elderly visitors, as well as family films and local schools.
The Kinema in the Woods, at Woodhall Spa, will receive £111,235, the Savoy Cinema in Boston will get a grant of £70,621, while the Savoy in Grantham will also receive £70,621.
Culture Secretary, Oliver Dowden, said: "Our record breaking Culture Recovery Fund has already helped thousands of culture and heritage organisations across the country survive the biggest crisis they've ever faced.
"Now we're staying by their side as they prepare to welcome the public back through their doors - helping our cultural gems plan for reopening and thrive in the better times ahead."
Sir Nicholas Serota, chairman of Arts Council England, said: "Investing in a thriving cultural sector at the heart of communities is a vital part of helping the whole country to recover from the pandemic. These grants will help to
re-open theatres, concert halls, and museums and will give artists and companies the opportunity to begin making new work.
"We are grateful to the Government for this support and for recognising the paramount importance of culture to our sense of belonging and identity as individuals and as a society."
Culture Secretary Oliver Dowden has announced details of 2,700 organisations being offered nearly £400 million in grants and loans to help the culture sector reopen and recover, on top of the £1 billion that has already been allocated in the first round.