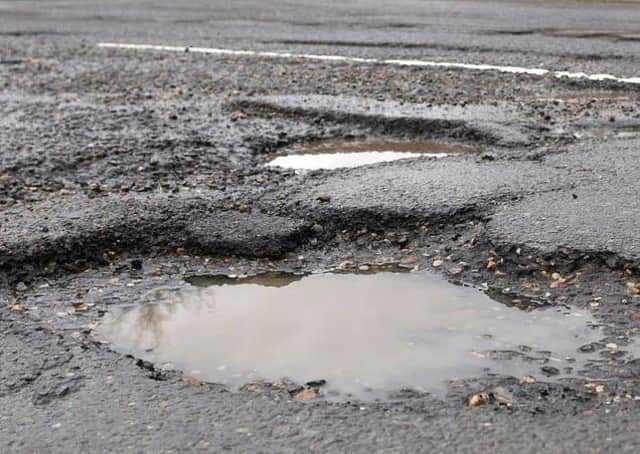 Figures from the county council indicate it would take around £400m to repair every single road and pavement.
And the shortfall would have been even bigger if the county council had not pumped its own money into roads maintenance.
The authority's initial roads budget for 2021/22 was £38.7m, compared to £51m in 20/21 – a reduction of almost a quarter year on year. However, the county's budget includes an additional £12.3m to make up the deficit, coming out of its savings in other areas and reserves.
Despite the ongoing funding issues – caused by central Government cuts – the council says it is 'much better' at fixing defects.
○ The council repaired 2,480 potholes across Lincolnshire in January;
○ In the week February 22 to March more than 1,500 potholes were fixed;
○ As of now, there are around 3,000 reported potholes waiting to be repaired;
○ 70 per cent have repairs scheduled
That 'waiting list' follows one of the coldest winters for many years. However, after the last bad winter (2018), the council had over 20,000 potholes waiting to be fixed.
Before the council's budget plans were confirmed, Coun Richard Davies executive member for highways said: "For such a vitally important service to be cut so drastically is frustrating and disappointing.
"We must receive more reports, requests and comments about our roads, than about any other county council service.
"Prevention is always better than the cure, and without adequate funding, there will be long-term consequences for the state of our roads and huge investment needed to bring them back up to standard."
In 2019/20, the county was able to invest around £25,000 per mile in its road network while London councils were able to afford an average of £62,000 per mile.
Council leader Coun Martin Hill said: "The taxpayers of Lincolnshire should not be expected to cover indefinitely money which should go to road repairs that the Government holds from fuel duty.
"Continuing to invest in Lincolnshire's infrastructure would have been an ideal way to continue the Government's agenda of 'levelling up' the county. But a roads funding reduction of nearly 25 per cent seems completely counterproductive."
County councillor Bill Aron added: "We manage and maintain over 5,500 miles of road and despite our best efforts and continued efficiency improvements in the way we work, it would cost around £400m to bring all our roads and pavements up to standard.
"Ultimately how much work we can do is dictated by how much we can invest in the network."
He revealed extra 'gangs' had been employed to carry out repairs and that – alongside the use of new technology – had made a positive impact.