Caistor councillor Angela Lawrence was re-elected as vice-chairman.
After making his declaration of office, Coun England said: "It is a pleasure, an honour, it's deeply humbling, highly privileged for what I do realise is a historic third year.
"During it, I will hopefully meet people again in our own district, throughout Lincolnshire and beyond and I will do as I have always tried to do - hold the good name of West Lindsey in all the duties I carry out as chairman of this council."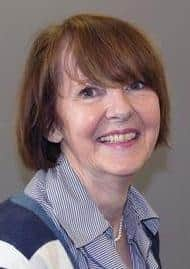 Following Coun Lawrence's re-election, Coun England thanked her for being a 'superb help and source of support and advice'.
In reply, Coun Lawrence said: "Because you [chairman] were so efficient last term and because of restrictions, I really haven't had much need to substitute for you or to stand in your place for anything, so it was rather a limited function I had, but hopefully this present forthcoming year will be a little easier and I look forward to being able to get out more.
"It is an honour and a privilege to be elected as vice-chairman and I look forward to supporting the chairman in every way possible during this coming year and I will strive at all times to promote and uphold the good name of West Lindsey."