West Lindsey Council pushes back against wave of large-scale developments
Lincolnshire has become a prime target for large-scale infrastructure projects which bypass planning rules in an "undemocratic" way, councillors say.
Watch more of our videos on Shots! 
and live on Freeview channel 276
Visit Shots! now
The county has seen a wave of energy plans which are so large they will go be decided by the government, rather than local councils.
West Lindsey currently has four proposed Nationally Significant Infrastructure Projects, which are expected to consume up to 15 per cent of the district's farmland.
The solar farms would generate large amounts of renewable electricity, but councillors are concerned over the impact it might have on the district's visitor economy.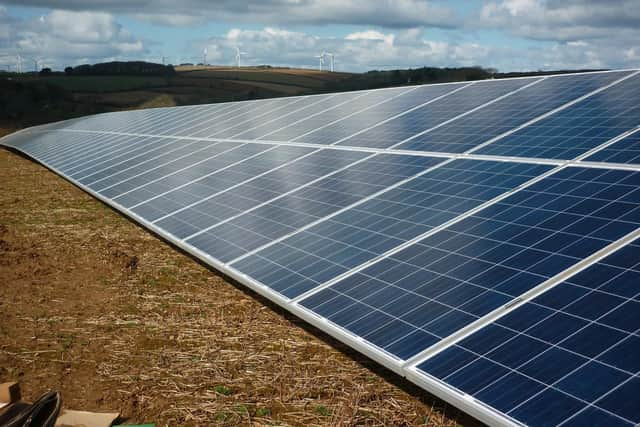 The 500MW Gate Burton Energy Park came under fire at the latest meeting of the council's prosperous communities committee.
The immense scale of these projects means decision-making lies with the Secretary of State rather than the council, which Coun Owen Bierley, labelled "fundamentally undemocratic".
Coun Tom Smith said: "It's an insult we are not seen as fit enough to make these decisions ourselves."
Nationally significant projects
Across Lincolnshire, there are currently 10 NSIPs in development, including eight solar farms – Cottam Solar Project, Gate Burton Energy Park, Tillbridge Solar Project and West Burton Solar Project, all in West Lindsey, Beacon Fen Energy Park, Heckington Fen Solar Park and Springwell Solar Farm in North Kesteven and South Kesteven's Mallard Pass Solar Farm – and two infrastructure projects: the A46 Newark Bypass widening and a reservoir in North Kesteven.
He said: "Lincolnshire is critically important to national food security and locally produced food is much better for the environment, because you get carbon miles moving it around.
Situation in West Lindsey
As part of the Planning Inspectorate's examination of the Gate Burton scheme, West Lindsey Council has formally objected, due to the anticipated impact on prime agricultural land and the area's tourism.
Coun Stephen Bunney, council chairman, said the high volume of these developments in West Lindsey could damage the local landscape and have a "knock-on effect" on local shops and pubs seeking to attract visitors.
Coun Bierley said: We have a unique opportunity at the moment as a council to increase visitor numbers and the value to West Lindsey of the visitor economy.
"If I was looking at brochures of potential areas to visit, large-scale solar farms would put me off."
Coun Emma Bailey, member for Lea, said: "We have a successful and famous county show. This year 65,500 people came, but would they still come if this whole area was covered in solar farms? I don't think they would."
Reaching Net Zero
In November 2019, several Lincolnshire local authorities, including West Lindsey, declared a climate emergency and pledged to make their activities net zero by 2050.
The council acknowledges solar farms could contribute towards this goal, but it believes there are better, less disruptive ways to achieve it.
Coun Roger Patterson, member for Scampton, said: "If the government wants us to be green, why are we still building houses with tiles? Why are we not putting solar panels on every house? There are other ways to achieve our net zero targets."