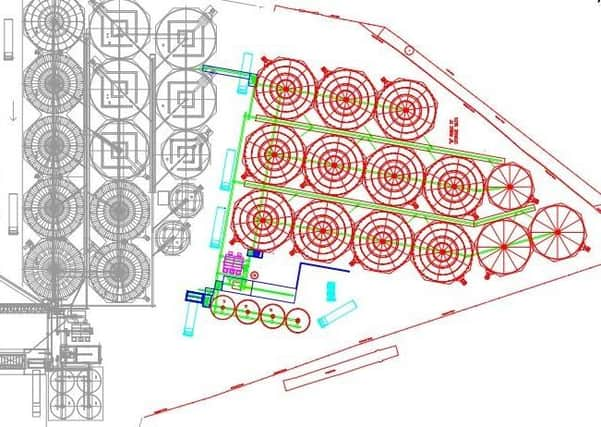 Woldgrain Storage applied for planning permission to build the silos, for up to 60,000 tonnes of grain, and associated structures on land adjacent to its current site at Hemswell Airfield.
The decision comes despite multiple objections from residents and local parish councils, who are concerned about an increase in noise, an increase in traffic and visual pollution.
Objecting to the plan, Bishop Norton and Atterby Parish Council said: "[We] are objecting to this proposal on the grounds of noise, visual amenity (particularly the bright metal exterior, perhaps a green coloured exterior might alleviate), flood risk to Hemswell Cliff and Spittle in the street and the increased HGV traffic which affects the local and surrounding area especially the increasing problem of HGV incidents on the A15.
"The increase in noise level will also affect Bishop Norton."
And Hemswell Cliff resident Michele Parkes said: "The noise from the existing silos already impacts on my sleep throughout the 
night.
"And a constant humming all day long. It's never ending."
Woldgrain Storage's planning application says the plan will create extra jobs and harvest employment.
It stated: "The combined effect of greater technical demands from industry and an increased demand for storage space from growers has meant that the store does not now have sufficient capacity to meet the needs of our members and their 
merchants.
"Currently we are finding a solution by renting additional remote storage, at a considerable cost and inconvenience to the business.
"With demand for grain storage at harvest being high, the only store available and large enough is in Driffield, East Yorkshire.
"This store has taken valuable revenue out of Lincolnshire and also had a significant impact on Woldgrain's profitability.
"The long term solution is for Woldgrain to increase capacity at Hemswell by building more silos.
"Although our current site has been fully developed, the opportunity to purchase the site immediately to our south has arisen.
"Our submitted plans show that once fully developed this site would provide a further 50-60,000 tonnes of storage 
capacity.
"From our experiences over the last 10 years of growth, this expansion would increase our workforce and create additional harvest employment.
"It will also provide local farmers with greater opportunities to add value to their crops and thereby increase their revenue and profitability.
"The wider supply chain, particularly hauliers, will also benefit."
The planning application said a noise survey and assessment had been performed for the new grain storage silos and associated plant, and that the impact would be 
'low'.