County council leader: Devolution is 'a fantastic opportunity' for Greater Lincolnshire
The leader of Lincolnshire County Council has described the latest devolution proposals for Greater Lincolnshire as a 'fantastic opportunity' for the region.
On Friday afternoon, Councillor Martin Hill said: "We had a successful meeting with Simon Clarke MP this week at which all 10 councils were represented.
"The minister indicated the government were keen for the county to progress a devolution proposal and indicated this would give both more power and more money to Greater Lincolnshire.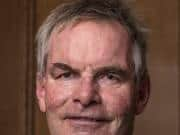 "As a county council, we are excited by this prospect and are keen to ensure we are at the front of the queue to get this prize for Greater Lincolnshire residents.
"We will be building on the work we have already done for the previous devolution bid and are confident we can hit the government's timescales of early autumn.
"This is a fantastic opportunity for Greater Lincolnshire that we don't want to lose out on."