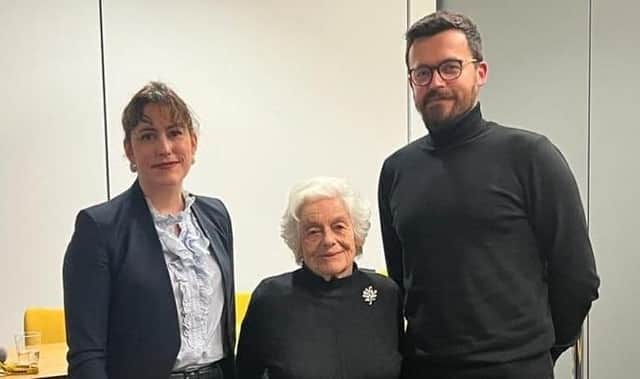 Victoria Atkins met Vera Schaufeld MBE who escaped the Nazis on the Kindertransport, and Smajo Beso OBE who fled the Boznia-Herzegovina genocide as a child.
Both Vera and Smajo have dedicated their lives to teaching others about the horrors of the Holocaust by sharing their harrowing experiences so that we may all understand and ensure that such evil is never repeated.
Ms Atkins also signed the Holocaust Educational Trust's Book of Commitment, pledging her commitment to Holocaust Memorial Day and honouring those who were murdered during the Holocaust, as well as paying tribute to the extraordinary survivors who work tirelessly to educate young people today.
Holocaust Memorial Day falls on January 27 every year, the anniversary of the liberation of the former Nazi concentration camp, Auschwitz-Birkenau, in 1945.
The theme for this year's commemorations is 'Ordinary People', where we remember the 6 million Jewish people murdered during the Holocaust and others persecuted by the Nazis, including Roma and Sinti people, disabled people, gay men, and political opponents to the Nazis.
We also remember all of those affected by genocide since, in Cambodia, Rwanda, Bosnia and Darfur – ordinary people whose lives were cut short or forever change because of persecution for who they were.
Victoria Atkins MP said: "As we consider this year's theme of 'ordinary people', we mark and remember those doctors, factory workers, mothers, grocers – everyone – who were persecuted based on their religion, ethnicity or identity.
"It was a privilege to meet Vera and Smajo who have dedicated their lives to sharing their stories to teach where hatred and othering and casual racism and prejudice can lead. We must never forget, and we must always fight lies,
hatred and indifference against all people.
"Thank you to Holocaust Educational Trust for their vital work to educate and remember. "
Karen Pollock CBE, Chief Executive of the Holocaust Educational Trust, said: "On Holocaust Memorial Day we remember the 6 million men, women and children who were murdered by the Nazis and their collaborators, simply for being Jewish, and we pay tribute to the incredible survivors, many of whom still share their testimony day in and day out to ensure that future generations never forget the horrors of the past.
"We also remember that antisemitism did not start or end with the Holocaust, we must all be vigilant, and speak out whenever it is found."