MP attends Alford Levelling Up public meeting
​Louth & Horncastle's MP has discussed Alford's multi-million pound Levelling Up funding, saying this is a "vital opportunity to regenerate the town's heritage".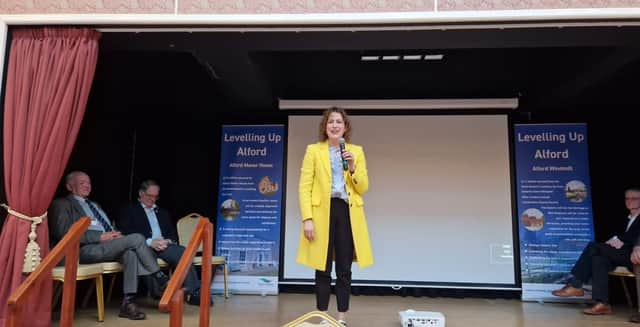 The event was held so that local residents and businesses in Alford could find out more about the town's £3.4m Levelling Up projects for Alford Manor House and Alford Windmill to strengthen Alford's tourism offering, which has been designated from the £8m Levelling Up funding awarded for East Lindsey.
A £2.5m grant is going to give Alford Manor House an upgrade to create a permanent function space, as well as the relocation and improvement of the tearoom and kitchen, freeing up space for improved displays within the museum.
A further £1.1m has been secured to restored and reopen Alford Windmill as a major attraction to help save the historic mill, which is now on the Heritage at Risk register.
A range of speakers informed the audience about the projects and the opportunities they present for the town and district. Ms Atkins spoke alongside Richard Quantrell of Alford and District Civic Trust, Dennis Bell from the Alford Windmill Trust, Cllr Graham Marsh from East Lindsey District Council and Cllr Colin Matthews from Lincolnshire County Council.
Victoria Atkins MP said: "I was so pleased to be in Alford to share more about the exciting projects at Alford Manor House and Alford Windmill that will attract tourism and investment into the area. This was a great opportunity to update the community on these fantastic projects.
"This investment has given us a vital opportunity to regenerate these important historic sites in Alford – alongside funding the Spilsby Sessions House regeneration project."