Downing Street suggested earlier in the day that no Cobra meeting was planned, but Flooding Minister Rebecca Pow announced this evening she had convened the committee on behalf of the Environment Secretary "bringing together teams working across Government to prepare for the risk of significant flooding across parts of northern, central and eastern England".
She said: "I was updated on the extensive preparations taking place to operate flood defences, put up temporary barriers and create Covid-secure rest centres for anyone who may need to be evacuated from their home. The Secretary of State is also receiving regular briefings and has updated the Prime Minister on these plans.
"I urge everyone to sign up to flood warnings and check the latest safety advice on GOV.UK."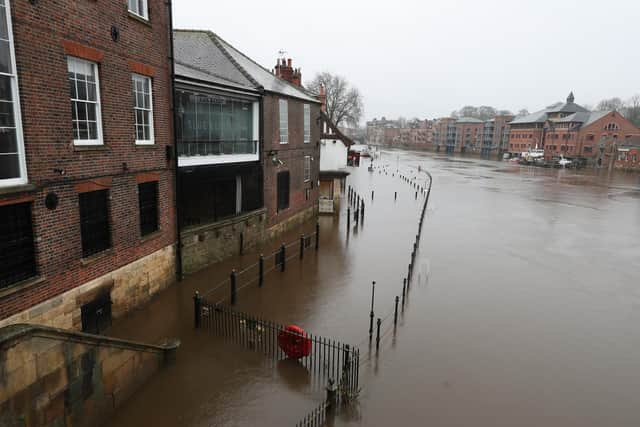 A major incident had already been declared in South Yorkshire in anticipation of flooding that could arrive in the coming days, while in York the River Ouse burst its banks yesterday.
Mayor of Doncaster Ros Jones said: "Key risk areas have been inspected over the past 36 hours, sand-bags have been handed out in flood-risk areas and will continue over the next 24 hours."
While North Yorkshire Police and North Yorkshire Fire and Rescue Service warned drivers not to take risks ahead of the expected weather.
A spokesperson said: "Just 60cm of standing water and 30cm of flowing water can be enough to float/move your vehicle. So please don't take the risk!"
North Yorkshire County Council said more than 15,000 sandbags are at the ready around the county.
In Fishlake, South Yorkshire, which was cut off by the floodwaters just over a year ago, thousands of sandbags arrived in the village as part of Doncaster Council's preparations today.
Flood warden and parish councillor Peter Trimingham said: "It's a very, very welcome sight for villagers, it gives us confidence."
He said: "We're absolutely hoping it doesn't rise to the same level but, if it does, we're reasonably comfortable that we've still got a chance because the Environment Agency have done tremendous work here along with Doncaster Council."
Mr Trimingham said new defences have been built in the last year and their team of flood wardens has been expanded to 22.
He said: "It was chaos last time. It's been very, very different this time – much better management of it all, much better leadership."
Mr Trimingham said two or three people had still not returned to their home more than a year after the 2019 flooding.
He added: "That's the reality of flooding. It's a very, very difficult and awful experience."
Mr Trimingham said: "At the moment, the signs are positive. But if we get the sort of heavy rainfall we got in 2019 following full rivers, then you can't predict.
"We're hopeful that won't happen and the village will come through it unscathed."
A few miles up the River Don, sandbags have been placed outside houses in Bentley, Doncaster, along a street which was also badly hit by flooding in November 2019.
Many residents in Yarlborough Terrace had to move out of their terraced homes when the River Don burst its banks in November 2019 and some were out of their houses for months.
On Tuesday, they were protecting their properties and hoping the rising river levels would remain below the huge floodbank.
Anna Booth, 37, who spent months living in a caravan on her drive, said: "It's a worry that it's happening again.
"It doesn't seem real, really.
"We've not been in that long from the last flood."
Ms Booth added: "But we've just got to muck in as a community.
"Being in the pandemic doesn't help either. Morale's a bit down but I think we'll all pull together again like last time.
"It breaks your heart, it's really sad but we can't stop the weather."
Guidance has been issued on how evacuations may be able to take place in a Covid-secure manner, and a Government spokesperson said: "The Government has robust plans in place to support any areas affected by extreme weather this winter. We have worked closely with local partners to ensure plans take account of the latest public health advice now and in the coming months."