The 1934 Riley Lynx was reduced to a pile of burnt-out scrap by the blaze; today, following 5,000-6,000 hours' work, it is a gleaming recreation of a 1930s' sports car.
The story of the transformation is told in a new book, penned by the man responsible for it, Roger Fountain, 77.
It had been a lifelong ambition of Roger's to design and build his own car.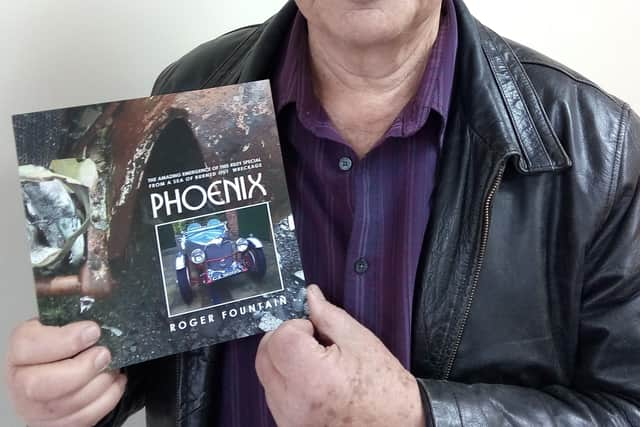 Roger, a former graphic designer, acquired the remains of the Riley in 2014.
"My first reaction was that it was a lost cause," he writes in his book on arriving at the wrecked barn in Wiltshire.
However, while the body had disappeared, along with the steering box, all brake shoes, much of the alloy parts of the engine, and the top of the gearbox, the chassis appeared to be still restorable.
"If the chassis is good, I thought, I can build a car," he writes.
From here, readers follow Roger as he overcomes numerous challenges to realise his dream, including repeated surgery – first, a complete knee replacement, second, for a broken back from an old riding accident, and third, to eliminate prostate cancer.
He told the paper that completing the project brought 'a deep glow of satisfaction'.
You can buy the book – The Phoenix – at Waterstones, in Boston, or from Roger at [email protected] or 07881 942436, priced at £10 for paperback, £15 for hardback.