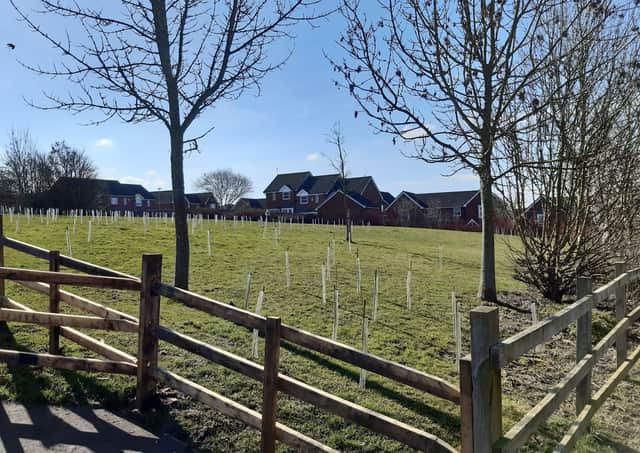 Members of the authority's Environment Overview and Scrutiny Panel were told that almost all respondents to the council's Tree Strategy wanted more tree planting not only on council land, but also on private land.
People also said they wanted to see the reintroduction of particular species like oak and elm in some areas.
Leader of the Council, Coun Richard Wright said: "The figure of 5,000 trees is an 80 per cent increase on our original idea, but people have told us that they want to see the creation of new woodlands generally and specifically there is a demand for a public nature park in the south of the district.
"To get such a positive response to our plans is very encouraging and councillors are keen to plant small trees rather than large statement varieties. This will keep the costs down and as they grow they will maximise carbon cover and sink benefits."
Work on tree planting schemes in the district is already underway with hundreds of native tree saplings taking root in Sleaford thanks to a joint project between Hill Holt Wood, the Lincolnshire Wildlife Trust and the council.
Funding for the Sheldrake Road project on a patch of open space on Quarrington Hill came from the Forestry Commission's Urban Tree Challenge Fund and the 700 trees planted contribute towards the council's commitment to reduce the carbon footprint and increase carbon capture because the trees absorb CO2 as they grow.
Coun Wright said: "At that site, in addition to the growing trees, we are taking a new approach to managing green space of maximising biodiversity and maintaining access for recreation and engagement with nature whilst increasing
capacity for carbon capture. There will be a range of habitats created including mown meadow, rough grassland, scrub mosaic and woodland, all of which support a broad biodiversity."
Hill Holt Wood Head Ranger Ben Wilson said: "We hope that from the works we are carrying out we will demonstrate an alternative way of managing green space that provides benefits for wildlife in the local area, for people's wellbeing and for the climate as the trees create a carbon sink that helps to reduce our carbon footprint."