RNLI called to two paddleboard distress calls in one day
The quick action of RNLI crews has been praised after two separate distress calls from paddleboarders in one day.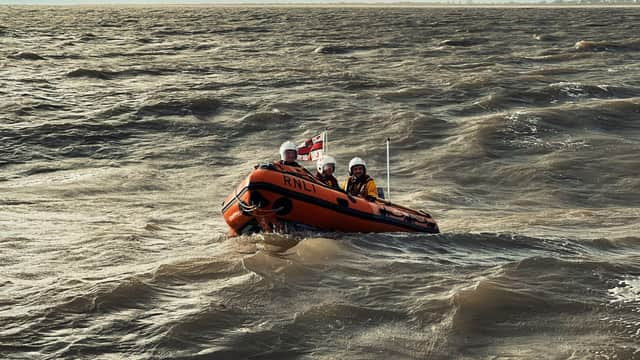 A young boy and his grandfather who had drifted a considerable distance from the shore resulted the first call at 12.34pm on Saturday.
Upon arriving on the scene, it was discovered that the paddleboarders had been struggling against the offshore breeze.
This launch was commanded by Craig Hopkins, assisted by crew Ryan Speed and Martin Stokes.
Senior Lifeguard Liam entered the water on a rescue board while Eloise coordinated the launch of Skegness ILB by calling Humber Coastguard. Lifeguard Lily kept her eyes on the flagged zone during the incident.
The RNLI Skegness lifeboat crew swiftly reached the pair aboard their inshore lifeboat (ILB). The boy was rescued first and given initial casualty care assessments on board the ILB before being transferred to East Midlands Ambulance Service waiting ashore. Meanwhile, the RNLI lifeguards on duty assisted the grandfather back to the beach.
Skegness RNLI Lifeboat Station Helm Martin Stokes emphasised the importance of swift action in such scenarios. "If you are in trouble or see someone else in danger, don't hesitate to raise the alarm," he advised. "It's also crucial to remember not to use inflatables, especially in an offshore breeze. The sea is unpredictable and can quickly turn a fun day into a potentially dangerous situation."
The second call occurred at 2.43pm, reporting two more paddleboarders off Vickers Point in Ingoldmells. Despite dealing with crowded beaches and swimmers in the area, the crew arrived at the scene within eight minutes. Both individuals were found on the beach; one suffering from chest pains and requiring immediate medical attention.
The RNLI crew provided initial medical care until the Coastguard Rescue Team and Ambulance Service arrived. Martin Stokes commanded this launch, assisted by crew Ryan Speed and James Porter.
The on-duty Deputy Launching Authority, Brad Johnson, praised his fellow volunteers' exemplary work on this busy day. '"The offshore breeze presented challenging conditions, but our crew navigated them skillfully and efficiently," he said. "Their dedication ensured the swift and safe rescue of these individuals. I am proud to work alongside such a committed team."
RNLI Skegness would like to remind everyone to remain vigilant and alert the authorities immediately if they see anyone in distress.