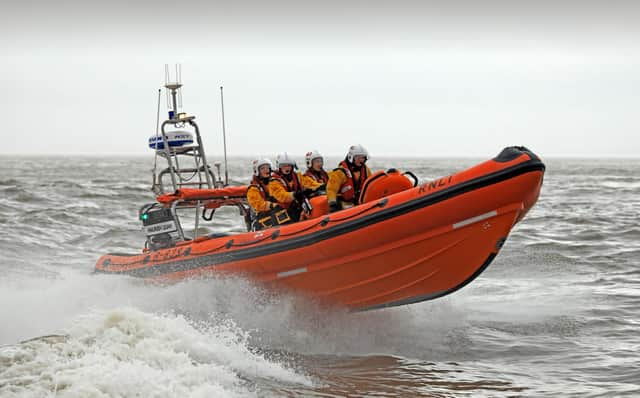 The Royal National Lifeboat Institution (RNLI) has today (Thursday) released its operational figures for 2022, which show RNLI lifeboats launched over 9,200 times in 2022 – an increase of almost five percent on 2021 – and 1,090 of these launches were in the North and East of England, where Mablethorpe and Skegness's stations are located.
The charity is now putting out its own Mayday call as it faces yet another busy summer with high numbers of visitors expected to visit the coast as people continue to choose to holiday closer to home.
In the North and East, the majority of launches in 2022 were to motorboats, sailing vessels, and to people who had got into difficulty while in the water.
Now the charity is putting out its own 'Mayday' call, urging the public to take part in the Mayday Mile, aiming to cover a mile a day for the month of May.
All money raised will help to provide the vital training and equipment that is needed to keep its lifesavers safe, while they risk their own lives to save others.
Nick Ayers, RNLI Regional Water Safety Lead, North and East said: "Summer is our busiest time of year, with thousands of people at risk of getting into danger by the water. Ordinary people just enjoying days out with family or friends.
"Mayday is our own call for help, as we rely on the generosity of the public to take part in events like the Mayday Mile and raise the funds that allow us to be there when we're needed most.
"But we need to be ready. Training, kit, stations, fuel – these are just some of the things we need to save lives and that your fundraising can help provide.
"Whether you choose to walk, jog, hop or skip, the Mayday Mile challenges you to cover one mile in any way you like every day in May, while raising vital funds for RNLI lifesavers so that they can continue to keep people safe at sea."
Nick added: "It's clear from these new figures that demand for our services is continuing to rise, with our lifesavers dropping everything to run to the lifeboat station when the call comes. Every penny raised during Mayday will go towards ensuring we are ready to save even more lives this year."
To sign up for the Mayday Mile, or to make a donation to the RNLI, visit RNLI.org/supportMayday