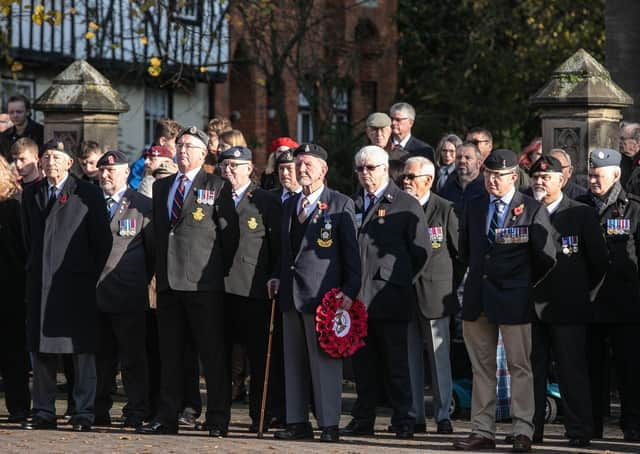 Veterans at the annual Remembrance Service in Sleaford last November. Photo: RAF
In a letter to Remembrance parade organisers across the county, Lincolnshire County Council and Lincolnshire Police have already offered advice and guidance to help events run smoothly this year in light of the llatest announcements.
The offer of further support comes after the Royal British Legion published new guidance that says Legion members cannot be involved in the organising or facilitating of road closures for Remembrance parades.
Instead, any road closure for a parade should be organised by the local civic authority such as the town or parish council. This came after a member of the public was injured at a Remembrance parade in 2018.
Sleaford branch secretary of the Royal British Legion, Brian Harvey explained Government procedures have been saying for a number of years along with the Legion, that it is the responsibility of local authorities to apply for road closures.
He said: "A couple of years ago central government provided funds to local government at county level for safety equipment, training, etc. This filtered down and two years ago I worked with Sleaford Town Council whilst still being the applicant for the Temporary Traffic Road Order (TTRO).
"By this time the British Legion was reinforcing that it was not the branch's responsibility and there were potential problems with insurance.
"Last year the Town Council became the applicant and will, working with the British Legion branch's help, organise TTRO's in the future."
These traffic orders normally have to be submitted to Lincolnshire County by the end of July.
The Remembrance Parades are organised by the Legion with road closures by the Town Council. The Remembrance Service is solely the responsibility of TRBL, explained Mr Harvey.
He added: "We are very lucky in Sleaford with having the support of all local RAF stations and the full support of both Sleaford Town Council and North Kesteven District Council and all voluntary organisations. Not forgetting the support of the local public.
"This however, does under Covid-19 guidelines give us some questions on how we organise the service this year."
A spokesman for the national co-ordinators of the Royal British Legion added: "Whilst the Covid-19 pandemic has impacted the ways in which we can deliver the Poppy Appeal this year, our community of staff, volunteers, partners and suppliers have been working together to ensure that the 2020 Poppy Appeal is able to go ahead and the nation can take part in Remembrance activity.
"The safety of the public, our staff, members and volunteers is our top priority and we are working with charity regulators and the relevant local and national authorities to ensure that all activity is safe and in alignment with both national and regional regulations.
"This year, in its 99th year, there will be more ways than ever before for people to support the Poppy Appeal, some of which are new for 2020. We will be calling on the public to take part and wear their poppies with pride to show their support for the Armed Forces community."