South Ormsby Estate to run Snowdrop Walks
You've now got the opportunity to enjoy the bountiful snowdrops and other early spring flowers at South Ormsby Estate.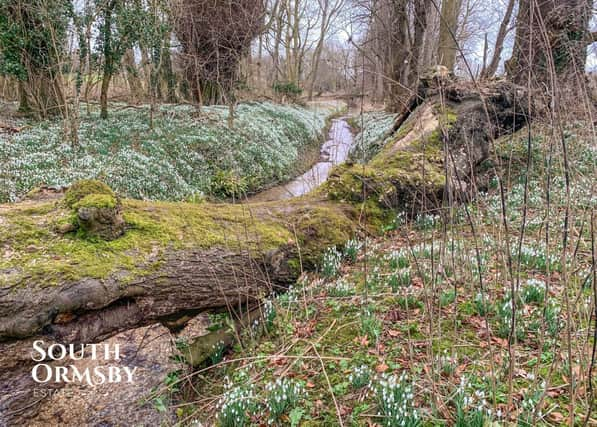 Following on from the estate's popular guided walks in the spring and autumn, the gates are now open again for a wintry walk.
The two mile circular walk tour will take you across across several small copses, followed by a walk through the 18th century landscaped parkland around South Ormsby Hall, including Lime Walk with drifts of snowdrops under the trees.
The walk begins at Wood Farm stack yard, and passes copses of woodland with clutches of winter-flowering bulbs, before entering the parkland around South Ormsby Hall and skirting the Grade II listed Walled Garden.
It then continues along Lime Walk, where the drifts of snowdrops are particularly impressive on both banks of the stream and into the wildlife-rich woodland, before heading over the remains of the Mediaeval village and out onto the road along the Ormsby ring, and visiting St Leonard's Churchyard on the way back to Wood Farm.
The snowdrops are particularly abundant, and you'll also see some aconites, early daffodils and crocuses, cyclamen and several different fungi.
The tour will be led by the estate's Head Guide, Pete Staves and is two-and-a-half hours long and will include a sample of the Massingberd-Mundy gins distilled on the estate, and a sample of Lincoln Red beef in a hot beef roll.
Samples of South Ormsby leather goods and handmade soaps will also be on display.
Visitors should please dress for the weather, which means warm clothing with plenty of layers, some rain protection in case of wet weather, and waterproof boots.
Tours will run from 10am on Sunday 12, Wednesday 15 and Sunday 19 February.