Staff rush to scene as passengers are stranded on rollercoaster
Witnesses have described their shock as passengers were left stranded in mid air on a popular rollercoaster at an Ingoldmells theme park.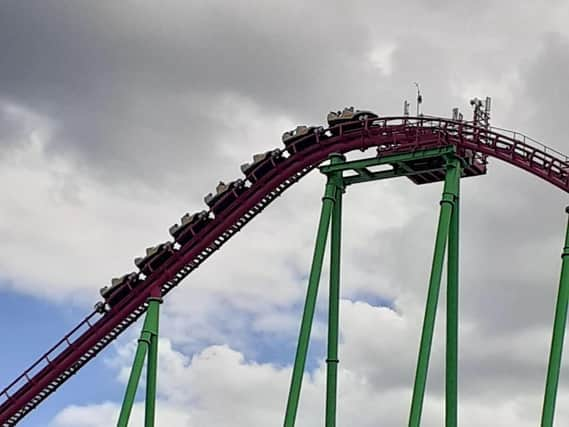 The thrill seekers at Fantasy Island were stuck for more than an hour after the 150ft high Millenium rollercoaster broke down.
Employees were 'face to face' with the passengers within five minutes and the passengers were evacuated, according to a theme park spokesperson.
The incident took place on Sunday afternoon.
Mick Tailor, who witnessed it whilst working at the nearby market and took a photo, said: "It must have been very scary for all the passengers on the ride but thankfully they were brought back down safely."
Another witness, Amy, who had been visiting Skegness with her boyfriend and two children, filmed a video which showed people walking down from the ride.
She said: "It was a shock to see. My son had just been on that ride three times before.
"He said he will never go on it again after seeing that some were stuck on the ride.
"I get they was very scared having to walk all way down from top of the ride.
"A woman at the bottom was crying as her son or daughter must have been on. She crossed over the road to watch them being rescued.
"The staff did very well, - three staff to each person walked down to make them feel more safe."
Fantasy Island, who recently re-opened after the Covid-19 lockdown, said all of the passengers were safely evacuated.
Millions of guests have safely ridden the Millennium since it opened in 1999.
"A fault within the rollercoaster drive triggered one of the multiple layers of safety systems causing the train to stop and lock," a statement reads.
"There were a number of passengers on the attraction who were safely evacuated.
"Our employees responded immediately and were reassuring customers face to face within five minutes of the occurrence.
"The well-being of our guests is priority and therefore an evacuation was carried out prior to further investigation.
"The ride has now been recovered and is back in its station.
"We can confirm that our ride maintenance team have completed a full ride inspection and the ride has passed all of its functional tests at the time of testing."