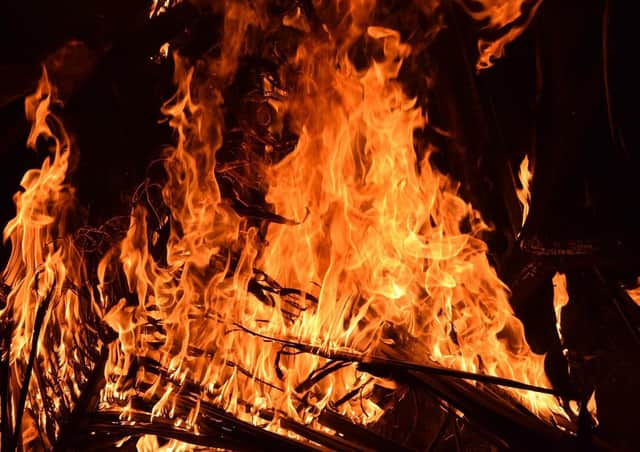 Just after 8.30pm, there were reports of a roof on fire at the Binbrook Technical Park.
Fire crews from Binbrook, Market Rasen, Louth, and Caistor - plus an aerial ladder platform from Lincoln South - attended the scene.
A stray firework had landed in the guttering of the building, causing fire damage to 30 per cent of the guttering, roof tiles and felt.
The fire crews used three hose reels and three ladders to extinguish the blaze.
Meanwhile, a conifer was accidentally set alight in a rear garden in The Broadway, Woodhall Spa, which was also confirmed to have been caused by a stray firework.
The fire caused 'severe' damage to the tree, and a crew from Woodhall Spa fire station used one hose reel to extinguish the fire.
A fire service spokesman said: "Our crews attended a handful of garden fires last night, and a larger incident where a roof set alight at a premises, all from fireworks. Make sure you have enough clear space (8 metres minimum, but 25 metres for some products) if you have home fireworks over the weekend.
"We've tried to emphasise that people should only use fireworks that are suitable for the outside space they have, and that they check packaging for the safety distance of each product – making sure there's nothing that could set fire in the area."
The spokesman added: "Fire crews also attended a number of false alarms around the county last night from people having bonfires.
"So our message is also, please consider whether it's really necessary to have a bonfire, and let your neighbours know if you do."
Paul Howes, Group Manager for Prevention and Protection at Lincolnshire Fire and Rescue, added: "We would recommend that you consider your neighbours and whether they have pets, or are elderly. You can buy a range of noiseless or low-noise fireworks that will still give a great display but without disturbing others.
"Having fireworks at home can be fun, but please use them safely. Always buy from reputable retailers and follow the instructions for each type of firework.
"Have a bucket of water on hand, just in case, and take particular care that children stay well away from fireworks – lit or unlit."