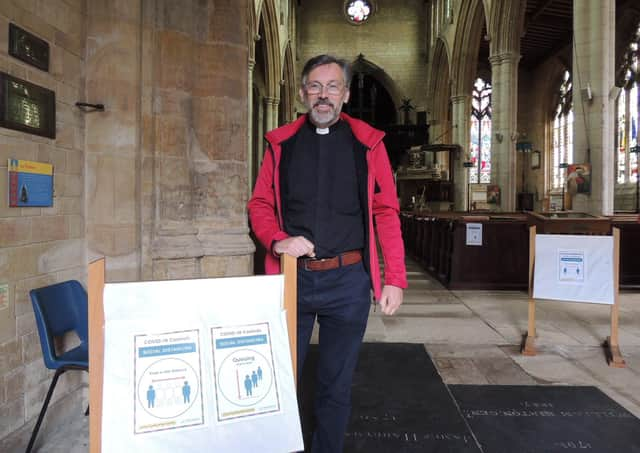 Observing strict social distancing regimes, St Denys' Church in Sleaford opened its doors on Friday for the first time in three months.
Rev Philip Johnson, Vicar of Sleaford and Rural Dean of Lafford, said he and his team of volunteers had received a steady trickle of visitors during the two and a half hours of opening.
He said: "We did not advertise it widely, as a trial run to make sure everything was in place and to see if the system worked.
"We are delighted some people have seen the door open and just come in.
"Now we will make it known more widely."
They have opted to only open on Mondays and Fridays between 10am and 12.30pm. This will save volunteers having to deep clean between sessions having given 72 hours for any virus to die off. It also means they do not have to call upon their predominantly older, vulnerable members.
Before re-opening the church was deep cleaned and tape restricting access to certain areas put in place as well as a one-way system to walk around safely, coming in one door and out another.
"We have moved the memorial book to a more accessible place and we have two metre markers on the floor," Rev Johnson said.
"We only have certain pews open to sit in and are advising people to sit in the middle to keep well away from anyone walking down the aisle."
Household groups can sit together.
People can light a candle, but visitors are advised to leave it five minutes after using the hand sanitiser due to the alcohol content.
Holding services seemed some way off but Rev Johnson did not believe they could allow more than about 40 people in at a time under current circumstances. Sight-seeing visitors are not yet permitted either, hence the need for volunteer stewards on duty at the moment.
He added: "Even when the church does open for services I expect we will continue to record services on video for out Youtube channel for the benefit of those not able to come."
He had been getting a regular audience of 60-80 viewers during lockdown, with one in ten watching from overseas. This week would be the first time since Easter that he had been able to record in the church.
From July 4 places of worship will reopen for prayer and services and weddings of up to 30 guests, according to the government announcement on Tuesday.