Campaigners call for final push against rail ticket office closure plans
Today, September 1, is the deadline for consultation on the proposed closure of most of the ticket offices at Lincolnshire stations, except for Lincoln, as part of a nationwide initiative by rail operators up and down the country.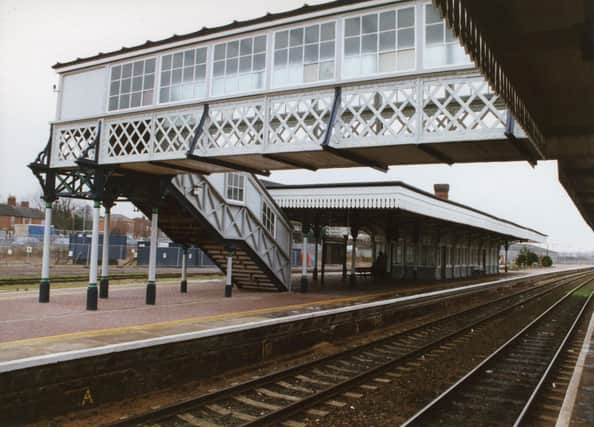 East Midlands Railway intends to close the offices at Sleaford, Grantham and Boston, as it says most passengers now use other ways to buy tickets including ticket machines, online and via their mobile phones.
For Sleaford EMR propose to send teams on a weekly basis to assist rail travellers on the platforms.
The next stage in the process is for the passenger bodies Transport Focus and London Travel Watch to review all of the submissions they have received from passengers. Over the coming weeks the train operators will work closely with passenger watchdogs to review, and adapt if necessary, individual proposals.
North Kesteven District Councillor Ann Mear (Lincolnshire Independent) is among those locally opposing the move. She said: "The closure of Sleaford and Grantham ticket offices will cause chaos, confusion, mayhem and anxiety to residents in our area, especially older people, the disabled and those who cannot use new technology."
County and district Councillor Marianne Overton, Leader of the Lincolnshire Independents, confirmed that at the next North Kesteven District Council meeting in October a motion will be put forward asking for a discussion on how the council should respond to the proposed closure of almost all station ticket offices.
She said: "We call on the council to take action. The council could call on the courts to review the decision by LNER and other operators. We have made our own responses and encourage others to make use of the extended time for response until midnight on September 1."
In July, EMR proposed to close rail 33 out of 38 ticket offices within the East Midlands, including Sleaford and Grantham, citing that 87 per cent of tickets are pre-booked online.
She said: "The train operator said staff will move on to platforms and use mobile devices to sell most ticket types, although customers would not be able to obtain season replacements, photocards, refunds or rail cards. This could be once a week or once a day.
"One in five rail tickets, including some of the cheapest, are not available from ticket machines, putting up costs and limiting choice if ticket offices are shut. This will hurt everyone, through losing the cheaper ticket options or the new £100 penalty fare."
Coun Ann Mear, a member for Westholme Ward in Sleaford, will also argue that spontaneous rail travel, that is, without booking, has been held by the court to be a Human Right, enforceable by law.
"This plan to force residents into using the ticket machines on deserted station platforms, planning the quickest and cheapest railway route with complex pricing. There are 2,822 routes to choose from. And if a rail journey is complicated, the options take too long to work through on a machine, whereas the staff are quick and efficient, using their experience, and even provide a print-out.
"Residents have been coming forward, worried about using the rail in future. For example, Kath, from Sleaford, travels every summer to visit her sister in Dundee. But this is a long journey crossing English and Scots Railway network. Kath relies on the 'kind and helpful' lady in the ticket office to navigate choices. If the office closes she will be unable to buy a ticket.
Older people also use ticket offices to purchase their annual Railcards. An ID check is done at the office. But when this procedure is carried out online the purchaser is forced to upload a passport size photograph. But campaigners say some older people cannot navigate smart phones or may have physical disabilities preventing them. They fear it could be "an open door for scam websites".
Ticket machines are also prevented from issuing Group Discount cards, such as for children or small groups. A card like this can save the purchaser 30 per cent of the ticket price. The campaigners say the closure means that people will be forced to pay more during a cost of living crisis.
Coun Overton said apart from the safety aspect, when a machine goes wrong a purchaser will potentially be unable to travel because they have no ticket, causing unnecessary distress.
She said an equalities impact assessment must be done by law and the court must step in to ensure it.
The TSSA rail union is urging anyone who has not yet done so to respond to the public consultation on ticket office closures before it ends at midnight tonight.
TSSA has led the campaign to encourage members of the public to take part in the consultation, forcing an extension to the initial consultation period and ensuring that over half a million people responded.
TSSA members and reps have staged campaign events at stations up and down the country.
Commenting, TSSA Interim General Secretary, Peter Pendle said: "If you haven't already done so then please take part in the consultation before it ends at midnight tonight. It only takes five minutes to complete but your voice could make all the difference.
"Over half a million of you have already taken part and told the government to keep their hands off our ticket offices. We need one final push before the consultation ends. If you have already taken part then please speak to your colleagues, friends, or family now – let them know how important it is that we send the government a message that ticket offices must remain open.
"It is clear from the overwhelming response to the consultation that the public will not tolerate this attack on our services."
In a statement, EMR said on the extended consultation: "Together with the extensive and on-going engagement with accessibility groups, as well as the independent passenger watchdogs scrutinising the proposals, the responses will shape final plans so that all customers are supported as railway retailing is updated for the smartphone era.
"In addition to these proposals, the rail industry continues to roll out improvements to ticketing such as pay as you go and single leg pricing.
"Although local plans vary, overall the proposals aim to bring staff out from behind ticket office windows to provide more support for customers buying tickets and navigating stations, as they move in to new, multi-skilled roles.
"The proposals would help bring station retailing up to date from the mid 90's, when the rules on how to sell tickets were set and before the invention of the smartphone. Back then, more than 80 per cent of all tickets were sold at ticket offices, compared to just 12 per cent nationally and fewer than five per cent at EMR stations on average today – a generational shift the railway must respond to at a time when revenue remains 30 per cent below pre-pandemic levels.
"Ticket vending machines across the network will be upgraded to sell a greater range of tickets and in rare cases where customers are unable to buy the ticket they need at a station, they would be able to buy on their journey, at a ticket selling facility en-route or at their end destination."