Family's ordeal after airports system failure
A family from Caythorpe who are among thousands of passengers impacted when flights in and out of UK airports were grounded by a technical problem.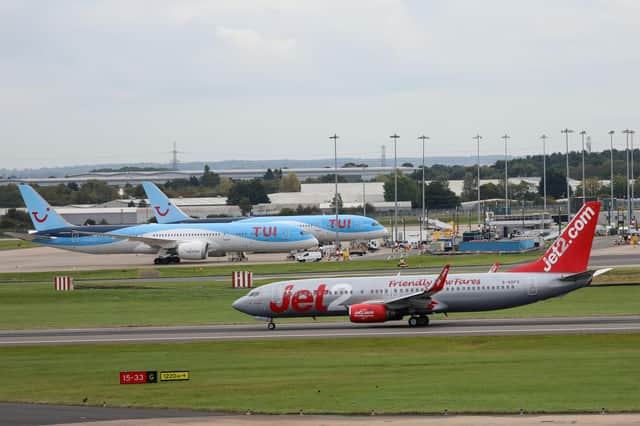 A systems failure at UK air traffic control led to long flight delays yesterday (Monday), with thousands of passengers stuck on planes and at airports waiting to leave this country and abroad waiting to come home.
All airlines operating in the UK were affected, with more than 500 flights cancelled.
Mark Jackson and his wife Sam were to fly to Antalya in Turkey from East Midlands Airport with daughter Willow, seven, and son Louie, 12.
They arrived at the airport at 2.20pm yesterday and were supposed to fly out at 4.45pm, but it was delayed and finally cancelled.
Mark, a chef, said they were due to be away for ten days: "First thing yesterday morning I checked the flight times and it said it was delayed by three hours, so we modified our arrival time, but then it was delayed and delayed. I hate to think what we spent keeping the children occupied.
"We were given vouchers for sandwiches and stuff but we were told the flight would be leaving then that it was cancelled and to come back at 2.30pm the next day in a generic letter. But then we got a text last night saying it was completely cancelled."
Mark had strained his back that morning and so had a doubly uncomfortable wait on airport seating. He said their airline, Jet2, has promised to give a full refund in seven days, but added: "Over 150 of us with pushchairs and prams were herded into a room and two or three reps tried to explain without much clarity. We were told to find our own taxis or hotels.
"Luckily we only live just over an hour away and drove home, but other passengers had travelled from London and had had a drink and so could not drive. A lot of familities were distraught and children were crying."
"Everyone had been glued to plane trackers and a lot of people were queuing to get into the restaurants to eat and drink and for somewhere to sit. Some people had been stranded for 12 hours, it was like a cattle shed."
They have now booked a fresh holiday in Rhodes with Tui instead.
Jet2 said in a statement: "Our teams are working incredibly hard to communicate with, and look after, our customers and they will continue to do so.
"As a result of the disruption, we have taken the decision to cancel some outbound flights scheduled Monday August 28 and Tuesday August 29.
"We will be contacting all affected customers to let them know, and they will of course receive a full refund. We are extremely sorry to have to take this decision however the Air Traffic Control disruption leaves us with no other choice.
"Customers due to travel tomorrow should travel to the airport as normal unless we advise otherwise, and continue to monitor Flight Information on our website.
"We would of course like to apologise to everyone that is affected by this situation, which is unfortunately completely outside of our control."
Airports have warned disruption will continue today despite the air traffic control glitch being fixed.