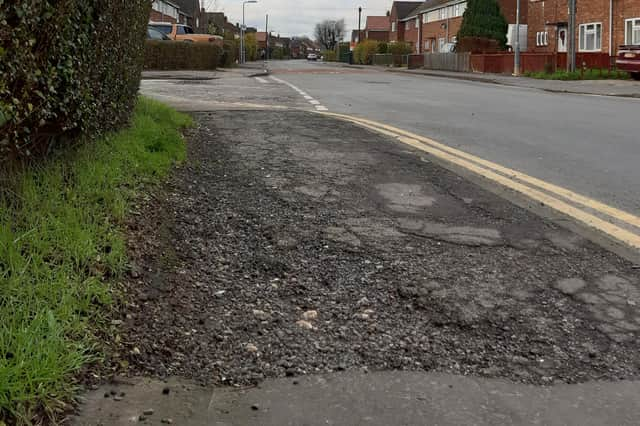 Lincolnshire County Council is to carry out the works in Woad Farm Road from Monday and the £280,000 project is expected to take more than four months to complete with a scheduled end date of June 1.
There has been criticism of the spend, however, from members of the public.
When Boston Borough Council shared news of the plans on its Facebook page, comments such as 'how about spending some on the pot holes destroying our suspension and tyres' followed.
In defence of the project, a spokesman for Lincolnshire County Council said: "As part of our highways duties, we monitor and assess footway condition throughout the year in all areas of the county. When a footway reaches a condition status such as this one has, we then put in place work schemes to carry out the full repair.
"As we know the footway is approaching the condition level where repairs such as these will be needed, we ensure that necessary funds are available from the overall budget.
"The money that will be spent is necessary for the works identified and is part of a larger spend in the area where we have carriageway works programmed for the 24/25 year. We cannot carry out these larger repairs of the road without having the footway next to it repaired first, so we are doing these works before we can get to the road itself."
In the meantime, the spokesman encouraged anyone wishing to report issues with the road to do so via the FixMyStreet website.
To reduce the impact on road users and the nearby St Nicholas CofE Primary School, the improvements are to be made in phases.
Throughout the period, access will be maintained for residents, the school and local businesses, the council assures. Works that are closest to the school are planned to be carried out during the holidays, it adds.
During the works, a diversion will be in place. Its entry point will be either via Church Street or Kingsway depending on the phase of works taking place at the time. To help keep traffic flowing, on-site marshals will also be assisting with access and egress arrangements.
As part of the rebuild of the footpath, some kerbing works and adjustment of crossing points for pedestrians will also take place.
Karen Cassar, assistant director for highways said: "We are delighted to be able to rebuild this important footpath and carry out some other works at the same time.
"The programme for these works carries over a few months and that is a schedule we have deliberately adopted so that we can do this work in phases. By doing this work in this way we will be able to carry out what needs to be done with less disruption.
"Naturally, we won't be able to do work of this scale without causing some disturbance for traffic and pedestrians which is why we will also have on-site marshals to help everyone with access whilst our crews are working.
"I would like to take this opportunity to say thank you, to everyone who will be affected, for their patience and understanding whilst we carry out this large footpath rebuild."​​​​​​​​​​​​​​​​​​​​​​​​​​​​​​​​​​​​​​​​​​​​​​​​​​​​​​​​​​​​​​​​​​​​​​​​​​​​​​​​​​​​​​​​​​​​​​​​​​