Work is ramping up on site just outside King's Cross station ahead of disruption this month and a six-day closure at Christmas as part of a £1.2billion upgrade to the line.
Network Rail teams are working day and night to reopen a disused railway tunnel, simplify the track layout on the approach to King's Cross station and increase the number of tracks into the station from four to six. This work, when coupled with improvements elsewhere along the route, will mean more train services can run in the future.
On Saturday, November 14 and Sunday, November 15, there will be a reduced service in and out of King's Cross station.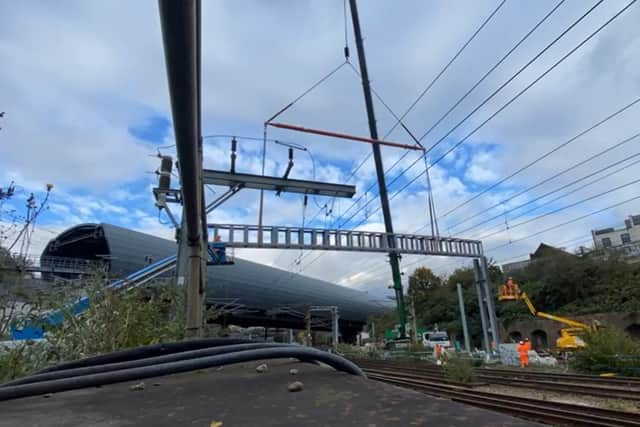 On Saturday, November 21 and Sunday, November 22, there will be no services in or out of King's Cross station or to/from St Pancras station via Finsbury Park. LNER services to/from the north will start/end at Peterborough. Passengers are urged not to travel. A limited bus replacement service will run between Peterborough and Bedford, where passengers can use Thameslink services to/from St Pancras International.
On Saturday, November 28 and Sunday, November 29, there will be a reduced service in and out of King's Cross station.
These changes are ahead of a six-day closure of King's Cross station between Christmas Day to Wednesday, December 30 (inclusive).
Passengers who must travel are urged to check before travelling via National Rail Enquiries or with their train operator.
On all three weekends the East Coast Main Line will also be closed at Grantham and a reduced service will be diverted between Doncaster and Peterborough via Sleaford and Lincoln, which will extend journey times.
Passengers are also reminded that, in line with Government guidance, they are encouraged to only travel if they need to. Passengers can travel with confidence by wearing a face covering, washing or sanitising their hands and maintaining their social distance.
Passengers are reminded that reservations are required on all LNER services and Hull Trains and Grand Central passengers are also reminded that both operators have announced that they have suspended services during the national lockdown.
Ed Akers, Principal Programme Sponsor for Network Rail's East Coast Upgrade, said: "The work taking place during the six-day closure at Christmas is absolutely key to the wider programme, so we're ramping up our work ahead of this. This means there are changes to services throughout November, so we'd urge anyone who needs to travel in or out of London King's Cross to plan their journey ahead of time and see what changes it means for them.
"We are sorry for the impact this will have on travellers; however, we know it will be worth it in the end and we look forward to them reaping the benefits of a more reliable railway with faster and more frequent services in the future."
A spokesperson on behalf of train operators on the route said: "If you need to travel to or from London King's Cross this November, or over the Christmas period, please make sure you're prepared for the service changes. The best way to do this is to check before travelling via National Rail Enquiries or your train operator. The work Network Rail is doing on the East Coast Upgrade is critical to improving your journeys and we are working closely as a rail industry on this vital project."