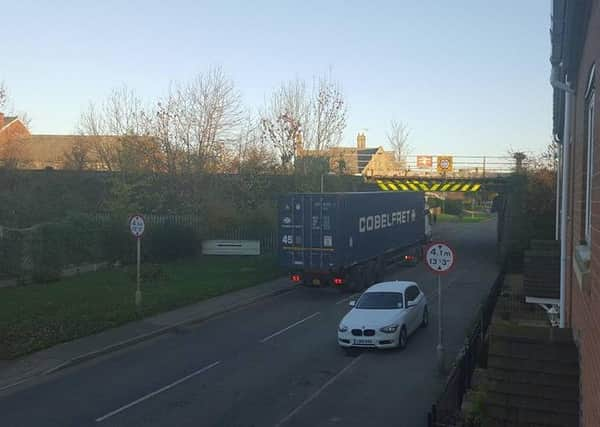 The railway bridge on Ermine Street was struck three times last year (March 2019-April 2020) and twice the year before (March 2018-April 2019), according to rail network data.
Elsewhere, the Harlaxton Road bridge in Grantham was hit 13 times, making it the eighth most struck bridge in the country, with Barrowby Road bridge in the same town not far behind having been struck eight times.
Bridges in Corby Glen and Gainsborough were both struck twice, meaning a total of 28 recorded bridge bashes in the county in a year.
With another lockdown period announced, increased online orders being delivered due to the Covid-19 pandemic, the Black Friday and Christmas rush around the corner, and more large vehicles expected on Britain's roads, Network Rail has released these figures to remind drivers and operators of their obligations to prevent these dangerous bridge strikes, which cost the taxpayers millions every year, as well as causing unnecessary delays for travellers.
Across the country, the number of reported bridge strikes has fallen by an average of 11 per cent, however Lincolnshire lags behind that figure with no decrease in the number of bridge strikes across the county. In fact, the number of times Harlaxton Road bridge was struck increased by 18 per cent. However, more encouraging news shows that drivers are beginning to heed the warning at Barrowby Road, as the latest figures show the number of strikes almost halving (47 per cent) from the previous year.
Before the Christmas rush begins, Network Rail is urging drivers and companies to know the size of their vehicles and to plan their routes in advance. Network Rail will feature reminders to drivers on petrol pumps at motorway service stations across Britain, reminding them to check their routes before setting off or face losing their licence.
The campaign has been relaunched following a letter which Richard Turfitt, Senior Traffic Commissioner for Great Britain, issued last month to all goods vehicle and Public Service Vehicle (PSV) operator licence holders. The letter warned them that regulatory action which could result in the loss of their operator's licence is a real possibility should they fail to take appropriate control measures to prevent bridge strikes.
Paul Rutter, Route Director for Network Rail's East Coast Mainline Route, which is disrupted most by the bridge strikes in Grantham, said: "We've done a lot of work with partners across the industry in recent years to tackle bridge strikes, however, there's much more to be done.
"There were still far too many bridge strikes in the county last year, which caused unnecessary delays for passengers, as well as costing the taxpayer money. As Christmas deliveries ramp up, we're urging all drivers to know the size of their vehicle and follow the guidance."
Guidance to drivers and employers includes:
* Assess the risks and ensure that routes are planned in advance, so far as is reasonably practicable
* Ensure that drivers, transport managers and planners are properly trained to enable them to assess the risks
* Ensure that drivers are be provided with adequate information including about the vehicles which they are driving.
In providing information that allows anyone planning or altering a route, operators should consider how to:
* Ensure that drivers have access to height conversion charts
* Ensure that sites have height measurement gauges
* Ensure that each vehicle and trailer in the fleet has an established running height on its technical record
* Ensure that running heights are available to anyone planning a route including drivers who encounter unexpected or unmapped obstructions, such as temporary works