New junction layout is safer for cyclists and pedestrians
Cycle ways and pedestrian crossings are among the safety improvements revealed by engineers behind an ongoing four-month highways project outside Sleaford.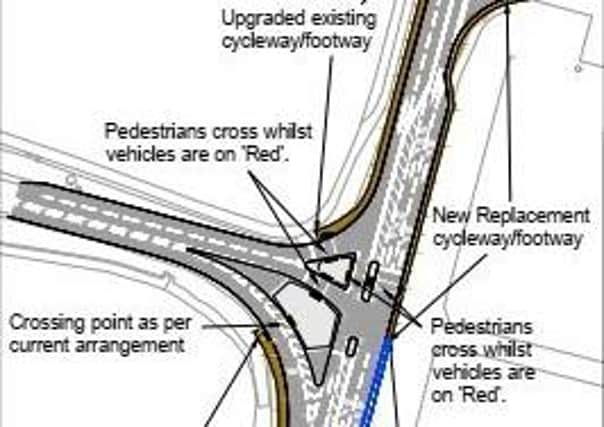 The county council improvement work at the A17 slip road junction with the A153 opposite the Sleaford Rugby Club has been underway since May 27 and forms part of a joint-funded £8.25m which will also see an upgrade of Holdingham Roundabout in February.
For the first couple of months, focus will be on the west side of the A153, diverting cabling and excavating, before installing new kerbs, footways, ducting and a new culvert ahead of moving over to the east side of the A153. Twelve new traffic lights will be installed, with work expected to be completed this autumn.
Sleaford town and district councillor Robert Oates had approached the project team to find out more about safety improvements for pedestrians and cyclists and said: "I welcome these improvements which will enable Sleaford residents to cycle more safely to the rugby club and onwards to Ruskington and the countryside beyond.
"I would like to see more investment in cycleways in and around Sleaford to make the town greener, cleaner and more attractive to shoppers."
Jamie Earls, Senior Traffic Engineer, explained: "The design offers safer crossing points particularly across the A153 as pedestrians currently use a crossing at the Parkway Roundabout to the south. At this location the traffic is free-flowing with speeds of up to 60mph.
"The main positive relating to cycling will be that this will now offer a continuous cycleway on one side of the road from Sleaford through this junction towards Ruskington, with crossing points in place across the A17 slip road and to the Sleaford Rugby Club, which will offer crossing opportunities when the traffic signals are on red. Currently there is only a formal cycleway up to the Sleaford Rugby Club."
The junction area will be under a new 40mph speed limit when finished to reduce speed of vehicles approaching.
The existing cycleway and footpath on the west wide of the road will be upgraded and widened either side of the junction, while a new foot and cycle path will be built from the junction up to the rugby club. The existing path on that side will be removed.
The crossing points will be uncontrolled crossings, offering crossing 'opportunities' from both directions across the A17 slip road and the A153.
All traffic islands at the reconstructed junction will be made larger, to provide safe pedestrian refuges with guardrails to wait to cross.