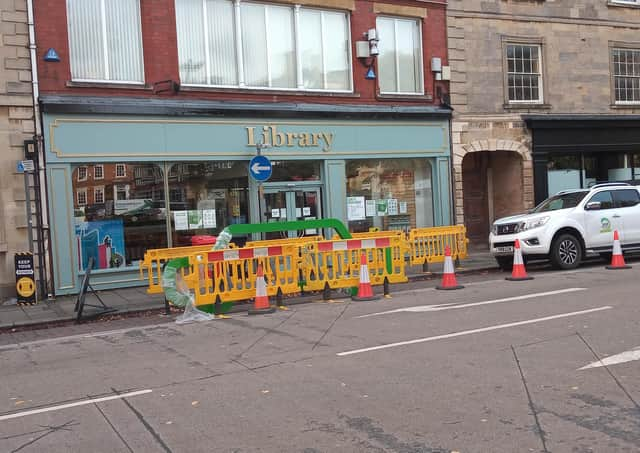 The racks were erected by operatives in town on Wednesday, paid for with some of £100,000 granted to the county council by the Department for Transport active travel fund.
Coun Richard Davies, executive member for highways at Lincolnshire County Council, said the fund is designed to help aid the county's recovery from Covid-19 by enabling better social distancing while people are out visiting town centres or cycling and walking to improve their health to resist the virus, as well as improving the environment.
Coun Davies said: "We've invested in new cycling storage that'll be installed in Boston, Gainsborough, Grantham, Holbeach, Skegness, Sleaford and Spalding.
"In Horncastle, the north side of the Market Place has been pedestrianised to allow more space for social distancing and allow the local businesses to use the area for outdoor seating.
"In Lincoln, the closure of Brayford Wharf East to through traffic will provide an almost traffic-free link for cyclists to the university, the city centre and the River Witham path. Then, on Wigford Way, a lane closure in each direction will provide a link to the bus and train stations.
"These measures are initially temporary for a year, but we'll be keeping an eye on how well used they are, and they could be made permanent," he said.
"The emergency active travel fund is just a part of our grand plans for cycling infrastructure in Lincolnshire. When it comes to upgrading our cycling infrastructure, having a coordinated approach that allows cyclists to reach more destinations will have the biggest impact on increasing the rate of cycling and take traffic off our roads.
"The second tranche of funding is worth over £800,000 for Lincolnshire, so there is more scope for ambitious projects on our roads. After hosting a virtual cycling summit with local cycling organisations and our district council colleagues, and taking residents' suggestions from Widen My Path, we submitted our bid in August and are waiting to hear back from the Department for Transport."
There are no immediate plans for further work until they hear back from the DfT on the much-larger second round of funding.
Cycling and walking network plans are being put together for each town though, which will act as a roadmap on developing the cycling network further in that area.
Coun Richard Wright, Leader of North Kesteven District Council, said: "It's fantastic to see these new bicycle racks in place, allowing more people to choose to cycle into Sleaford town centre and look after the natural environment as well as their own wellbeing. It's also a very visual way to help encourage cycling, using funding from the first round of the emergency active travel fund from the Department of Transport.
"We're continually looking for additional new and exciting opportunities to improve cycling infrastructure for North Kesteven, through our refreshed Cycling Strategy and by working with partner agencies across Lincolnshire, as well as opportunities to enhance walking in our district."