Stations to get new customer information screens as campaigners battle ticket office closures
Sleaford station is to benefit from a £1 million project by East Midlands Railway to install nearly 200 new customer information screens as campaigners battle against planned ticket office closures and de-staffing of stations.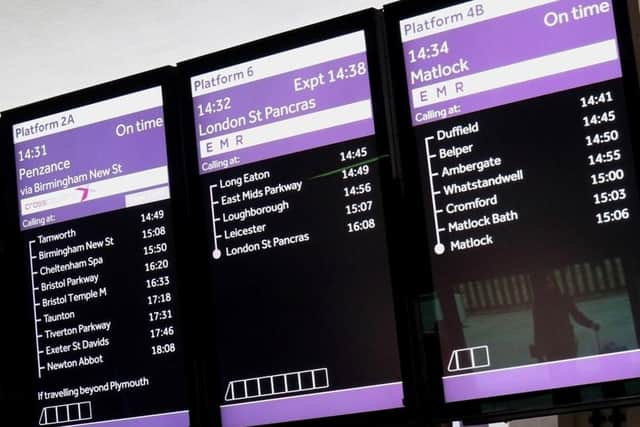 The project will involve fitting the screens at the main key stations in cities served by EMR, as well as numerous regional and rural stations, including Sleaford.
The colour screens have been designed to be easily visible and comprehensible to customers under various weather and lighting conditions, catering to passengers with different levels of literacy and language proficiency.
Twenty-five of the screens will be interactive, allowing customers to access important local and accessibility information, such as onward travel options, tourist information, and the locations of council offices. Additionally, customers will be able to scan QR codes on these screens to download useful walking routes.
Neil Grabham, Customer Services Director at East Midlands Railway, said: "We understand the difference easy-to-understand customer information screens can make. The new screens will help customers quickly comprehend the latest information about their journey, consequently improving the flow of people around our stations.
"We have taken great care to ensure they work effectively in busy environments with considerable background noise and visual distractions. Furthermore, they have been designed to be accessible to a wide range of customers, from tech-savvy travellers to individuals who prefer printed timetables, as well as those with low literacy or non-English speaking backgrounds."
Customer information screens will be installed at Stamford station in Lincolnshire, while interactive customer information screens will be installed at Lincoln and Sleaford.
It comes as EMR proposes to close ticket offices at its stations in Sleaford, Grantham, Boston, Spalding, Stamford and Skegness.
Industry body the Rail Delivery Group plans to close most ticket offices at train stations in England within three years, except at the busiest stations, claiming most passengers but now buy tickets using machines or their smartphones.
EMR has stated on their website that there are currently no station staff available at Sleaford until further notice. This also affects accessibility to the Nottingham and Lincoln bound platforms as staff will not be available to assist customers across the barrow crossing (as there are no lifts if passengers cannot use the stairs on the foot bridge over the line.
An EMR spokesman said: "EMR is not responsible for disabled assistance across the crossing, this is a telephone operated crossing which is a direct line to the signaller. There are no plans to change the Network Rail staffing at this location."
Town and district councillor Linda Edwards-Shea is tabling a motion at tomorrow's (Wednesday) Sleaford Town Council meeting where it calls upon the council to formally oppose the plans to close the ticket office and remove staff, and asks the council to respond to the Transport Focus consultation as well as write to Sleaford's MP and EMR.
Coun Edwards-Shea said: "My motion's been seconded by two other Sleaford Town Councillors, Pat Cockcroft and Dave Darmon. I hope council will support it."
Looking at the message on EMR's website for the station she said: "Presumably if the ticket office closes and Sleaford loses its staff, which is what EMR wants to happen, then disabled people, vulnerable people, and anyone with mobility issues will not be able to travel by train from Sleaford.
"Furthermore, anyone who can't use the internet or a phone app, or can't use the ticket machine, could be prevented from travelling by train. For those people, buying tickets on the train isn't always possible, and anyone who wants to buy a Railcard, season ticket, etc., will have to travel to Lincoln or Nottingham."
She said there has now been over 50,000 signatures on a national e-petition calling for the ticket office closure plan to be discussed in parliament. There are over 500 signatures in Sleaford & North Hykeham constituency - higher than in neighbouring constituencies.
Coun Edwards-Shea said: "Councillors Cockcroft and Darmon and I have spent a few hours at Sleaford station with a local petition opposing the closure. The petition is addressed to our MP, Dr Caroline Johnson. I hope she will support it. I've contacted Caroline Johnson and I'm waiting to hear back from her. So far we have about 200 signatures.
The EMR spokesman responded: "Although the ticket office will close, we expect weekly visits from mobile staff at the station. The timings of these visits are to be determined by the outcome of the consultation."
The spokesman added: "In line with other train operators, we are supporting the modernisation of the industry so we can adapt to our customers' changing travel patterns.
"These proposed changes are aimed to bring railway staff closer to customers, better match demand with resources and ensure value for money for the taxpayer.
"The proposals would help bring station retailing up to date from the mid 90's, when the rules on how to sell tickets were set and before the invention of the smartphone. Back then, over 80 per cent of all tickets were
sold at ticket offices, compared to just 12 per cent nationally and less than five per cent at EMR stations on average today.
"We will carry out a full Equality Impact Assessment for each individual station to make sure that the needs of vulnerable people and those with accessibility needs are protected – this will be shared with the Department for Transport as part of the Public Consultation process.
"We would like to encourage as many people as possible to take part in the consultation and share their views. Full contact details can be found on the following dedicated webpage eastmidlandsrailway.co.uk/modernisation-consultation"