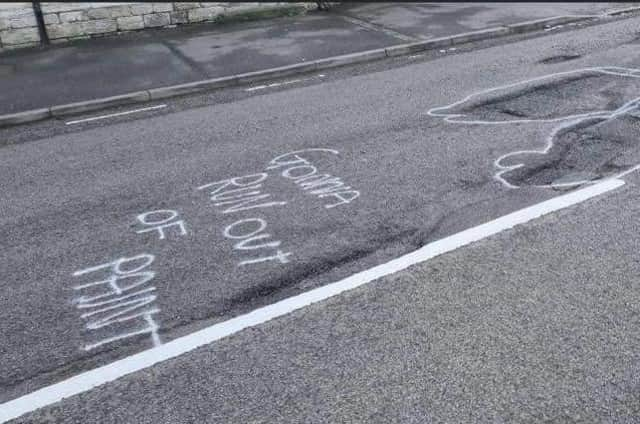 Ancaster residents have been complaining for months about the badly potholed Ermine Street causing damage to car wheels and disturbing their sleep due to heavy lorries bouncing through the holes and shaking their properties.
But overnight, a joker has painted white circles around many of the holes with slogans such as "Fix me I'm f****d", and "Road tax?" before daubing "Gonna run out of paint" and "I'm bored now".
Although they were likely to be quickly pressure-washed off, many on social media shared images of the paintwork expressing support for raising the issue.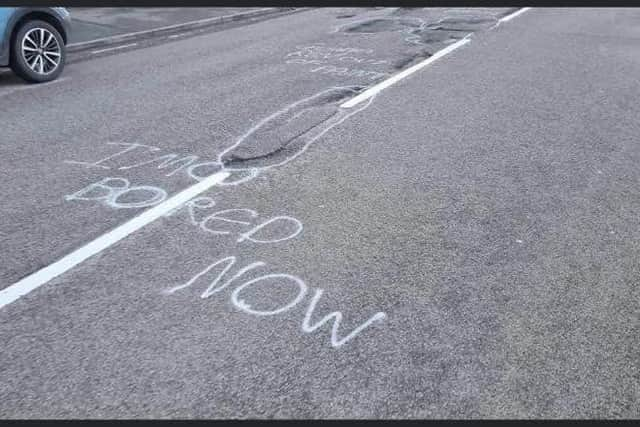 One resident who lives near some of the potholes said they had got photos, saying: "Waking up and seeing this made my day! Whoever done, it big round of applause for you, about time someone did something. We should all stand together on this, it's getting past a joke and just cost us money.
"You can't even avoid the potholes anymore … we need 100 plus cones put one in each pothole - soon get council talking then!"
Another Ancaster villager commented: "Brilliant. Love the artistry."
Highways are said to be due to make repairs to the road in April, when the weather improves.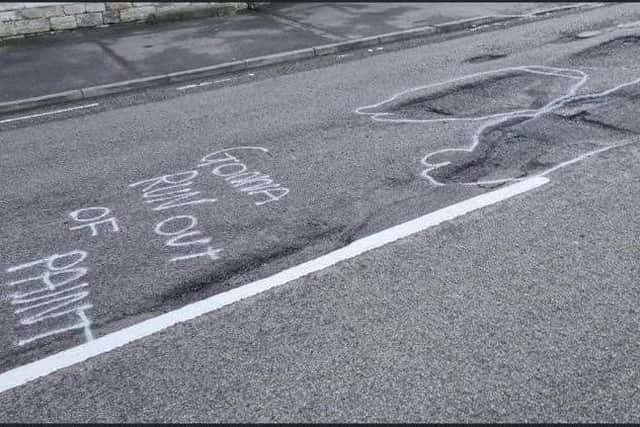 The villager said: "Until they (highways) strengthen the entire road or put a weight limit on it, the trucks will destroy any repairs. It's only a B road and has far too much heavy traffic on it."
Another resident said: "I saw this on my way home after a nightshift this morning. Made me smile all the way home. Big to whoever did it."
Coun Richard Davies, Executive member for Highways said: "What a shame that somebody has defaced a part of our county with graphic terms of this nature. We will be sending out a clean-up crew to take care of this as much as possible, as soon as we can. But it's worth noting that by doing so, some of the vital funds that we need to put into road repairs such as these will have to be diverted to cover the clean-up costs. We can't leave this graffiti as it is and have this abusive language on Lincolnshire roads. It is simply not acceptable for the residents, families and businesses in the area.
"The damage to the road surface has become worse over the recent very cold snap with some temporary repair works being lifted out of the holes as traffic drove over them.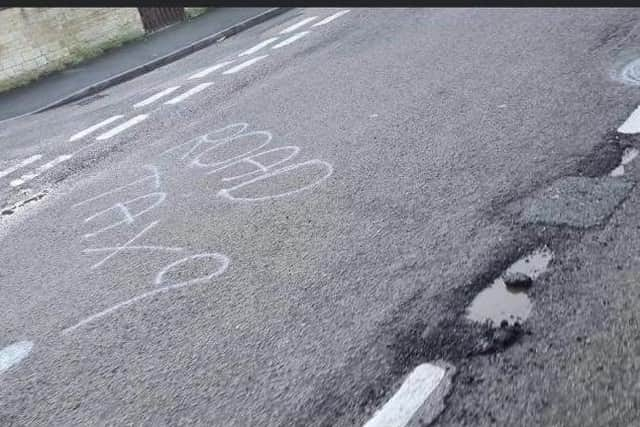 "We have a crew going to site as soon as possible to make further temporary repairs to the parts worst affected, these works were measured up and ordered before the graffiti happened and when our officers went on site to do this, they were met with verbal abuse - which is something we will absolutely not tolerate.
"In terms of a more thorough repair which will involve a rebuild of the entire surface, this is planned to happen from March 23 this year. In real terms, this obscene graffiti doesn't change anything other than it's something that we are now going to have to spend crucial money to try and clean up. We'd already decided on this week's works before the paint happened and since last year we have been very clear about the surface rebuild happening in the first quarter of 2023."