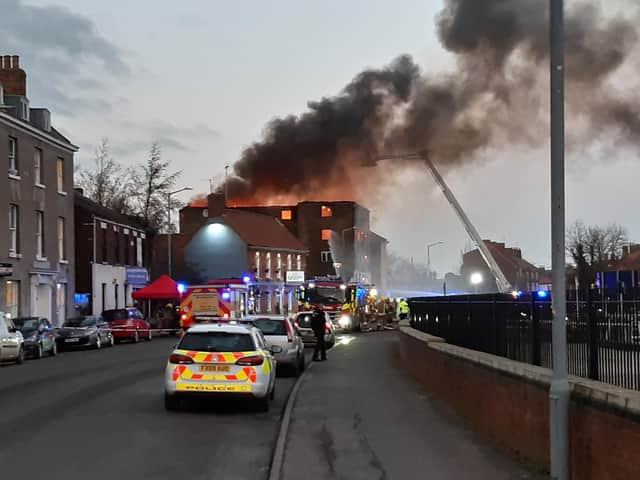 Nine appliances including two aerial ladders have been called to fight a blaze in a derelict building on London Road in Boston which was reported by passers by just before 4pm this afternoon (Monday).
The old warehouse building, formerly occupied by Silt Side Services, has stood empty and up for sale for a number of years, next door to the Quayside Hotel.
Marketing and technical manager Nathan Bryant said they have had to re-accommodate a full hotel of around 40 guests after having to evacuate the building due to the threat of the fire.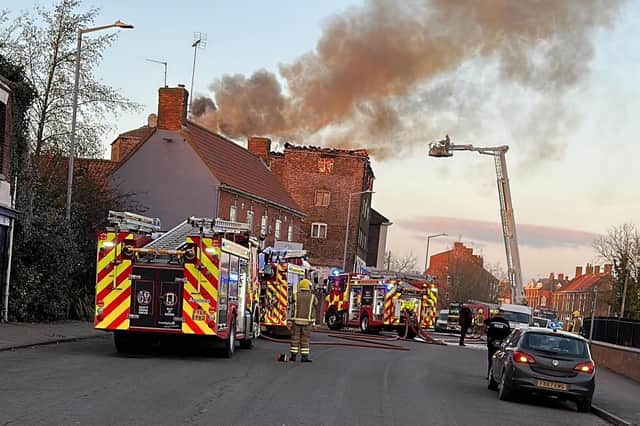 He said: "We spotted a significant volume of smoke coming from the disused warehouse next door to the hotel.
"The fire brigade had already been called by members of the passing public and we were instructed to carry out a full evacuation as there were initial concerns that there may be asbestos in the warehouse.
"There was a significant amount of smoke and flame spurting out from the windows adjacent to our property and we had concerns for the welfare and safety of our building."
He said the plume of black smoke and orange flame can be seen across the town.
Mr Bryant added: "We had a full hotel of around 40 guests booked for the night and some had already checked in. Everyone was swiftly evacuated.
"We also had five members of staff in the hotel at the time. Our staff had started cooking food for the evening but they have been sent home too.
"We have moved all the guests into other properties within the group, so that has not affected them too much."
He said that they were advised to isolate the electric and gas supplies on the premises."All our staff are trained in fire evacuation procedures – it is the third fire near us in six months. We had the fire in the block of flats, then last week we had a small fire in a house of multiple occupation on the street and now this one too.
"We are just hoping it will not cause too much damage to us. The old house next to the building on fire is from the 1800s and the Quayside Hotel is from the late 1800s or early 1900s - both historic buildings."
London Road and High Street have been closed by police while emergency services tackle the flames.
Police have advised people to avoid the area.