VIDEO UPDATE - Lincolnshire firefighters helping treat and search for earthquake survivors in Moroccan mountains
Four Lincolnshire firefighters have been busy treating injured people and searching for survivors since arriving in earthquake-stricken Morocco.
In an update this morning (Wednesday), it was reported by Lincolnshire Fire and Rescue Service that Darren Burchnall, Ben Clarke, Karl Keuneke and Neil Woodmansey, along with Colin the search and rescue dog, had been part of the 60-strong UK International Search and Rescue team that had flown after the earthquake struck and were yesterday (Tuesday) assessing damage and health needs in two areas in the Atlas Mountains.
A spokesman said: "They treated injured people and have been searching for survivors in collapsed buildings. They will continue this work today."
Darren is usually based at Spalding fire station, Ben is from Sleaford fire station, Karl is based at Lincoln South fire station. Neil Woodmansey is Lincolnshire's specialist dog handler and lives in Sleaford.
Four British Council interpreters have also been deployed to support the work of the ISAR team by providing translation services.
Jaguar Land Rover is supplying four Land Rover Defenders to support the UK's International Search and Rescue Team's efforts to access the most affected by the earthquake in Morocco.
In addition to the ISAR team, the UK has deployed a medical assessment team made up of specialist clinicians who are working with the Moroccan authorities to assess the damage to the health system and help to coordinate the response.
The UK is also continuing to support British nationals in the region, with consular advice available 24/7. Any British nationals affected by the earthquake who need assistance, or anyone in the UK concerned about a British national abroad should contact the FCDO on +44 (0)20 7008 5000.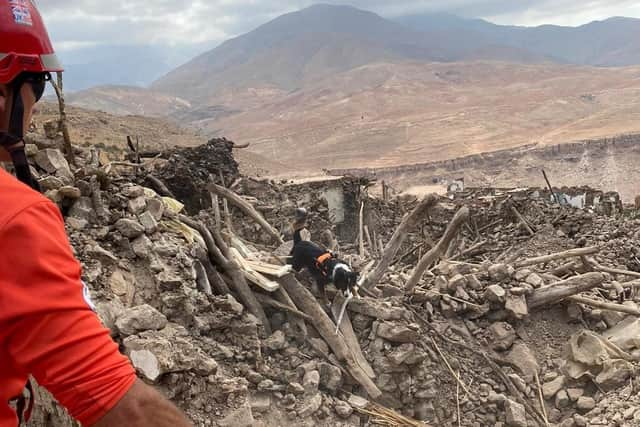 UK International Search and Rescue (UKISAR) is part of the National Fire Chiefs Council's (NFCC) National Resilience Work and is on permanent standby to mobilise and assist when requested by disaster-affected countries. The UKISAR team responds primarily to overseas urban search and rescue emergencies on behalf of the UK. Any UKISAR team deployed is self-sufficient upon arrival and provides its own food, water, shelter, sanitation, communications and all necessary equipment to undertake search and rescue operations for up to 14 days. This is to ensure no additional burden is placed upon a country already suffering demands on its resources following a sudden onset disaster.