The stretch of countryside which will be the base near the sea for the region's new air ambulance seemed a tranquil space for crews who could be called to action any minute.
Lincs & Notts Air Ambulance (LNAA) feel lucky to have been welcomed to Strubby Airfield as they trial a second helicopter for the county in a pioneering move to meet rising demands for their service.
Our newspaper went along to see the helicopter that has taken over from the charity's Critical Care Car (CCC), which has been operational on the East Coast from June 1.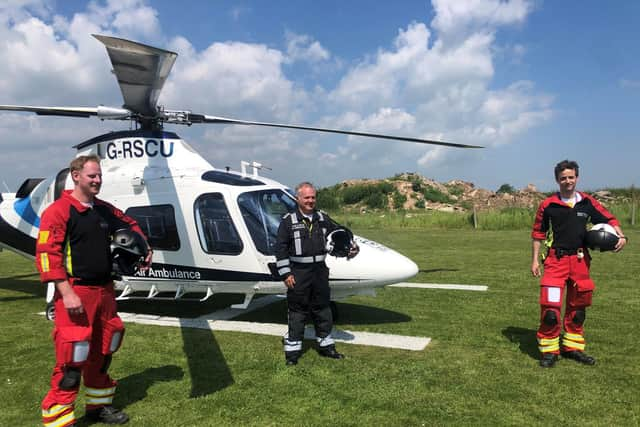 Already this month, doctors and paramedics have responded to 31 emergencies in the area - around two a day - and the charity expects it to get even busier during the summer holidays.
The expansion of LNAA's service comes as the UK emerges from Covid restrictions and it is anticipated an influx of visitors will flock to popular seaside towns.
The second aircraft, a black, white and blue AW109, arrived at the airfield near Mablethorpe on Wednesday, ready to respond to incidents along the coast. It is being leased until the end of August.
The charity's familiar yellow air ambulance which is based at RAF Waddington will continue to attend emergencies across Lincolnshire and Nottinghamshire, helping those who need it most. The new helicopter will return to its hangar at RAF Waddington overnight.
Doctor Cosmo Scurr was one of the crew of two clinicians and two pilots at Strubby on the first day at the new base. He said: "Launching this additional service on the Lincolnshire coast means that we can be there for more patients who may need us.
"Our clinicians can provide potentially life-saving care to the patient outside of a hospital environment. With the nearest Major Trauma Centre being situated over an hour away from the East Coast, having a second helicopter will allow us to save vital time when transporting the patient to hospital."
LNAA is the first air ambulance in the country to have a second helicopter - a massive commitment bearing in mind each callout costs around £3,500. After a year when normal fundraising has been limited due to Covid-19, the charity is even more grateful to those who have continued to support it.
CEO Karen Jobling said: "Seeing our second helicopter touch down at the Lincolnshire coast marks a momentous occasion for Lincs & Notts Air Ambulance.
"Our life-saving service has helped literally thousands of patients over the years, and our second helicopter on the busy Lincolnshire coast will allow us to bring medical care to many more people in their time of need.
"It is bitter sweet because the fact we are doing reflects how busy we have been and that when we arrive on the scene someone is having a bad day.
"The launch of this second aircraft simply wouldn't have been possible without our wonderful supporters.
"While it's been a tough year for fundraising, it's only thanks to your generosity that we are able to provide this service on the Lincolnshire coast."
Pilot Jim Lynch says the new base is exactly where it needs to be. "We really appreciate Strubby Airfield for making us so welcome. It means we can be at the coast earlier and then fly to one of the major hospitals - say Hull or Nottingham - within 'the golden hour' to give the patient the best possible chance," he said.
"This is a very peaceful spot and a perfect place for the crew to relax inbetween callouts. You have to decompress when you can because once that call happens you are in the air in two minutes and closer to where we need to be.
"This area is really blessed to have a second helicopter."