Warning after RNLI in dramatic rescue after person cut off in strong surf at Skegness
Visitors are being warned to check tide times after the dramatic rescue of a person cut off from the beach in Skegness.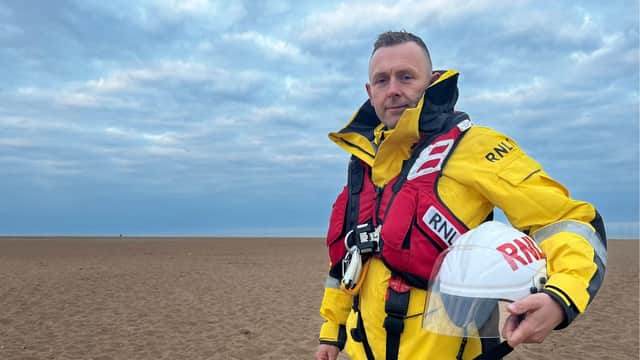 This might usually have been a job for the inshore lifeboat but due to challenging sea conditions caused by a high spring tide and strong surf, the decision was made to launch the all-weather lifeboat instead
The highly skilled volunteer crew swiftly responded to the request for assistance from the UK Coastguard.Upon reaching the reported casualty location, it was discovered that the person was actually in an inland lagoon, which had flooded due to the very high tides, which, at the time were around 7.16 metres.Deputy 2nd Coxswain, Lee St Quinton, emphasised the importance of checking the tide times and conditions before walking near the coast.
"It is crucial to be aware of tidal movements and surf conditions, as they can quickly change and put individuals at risk," he said.
Lee further emphasised the necessity of always having means of calling for help by dialling 999 or 112 and asking for the Coastguard in case of emergencies near, or on the sea.
After providing essential assistance to the shore-based Coastguard Rescue Team, the all-weather lifeboat was stood down and returned to the station. The person in distress was led to safety by the local Coastguard Rescue Team as the tide retreated and the water levels reduced enough to ensure a safe route was created for the casualty.Following the launch, RNLI Skegness Beach Lifeguards assessed the ongoing situation and determined that the strong tides and surf posed a severe hazard to swimmers in the area. As a precaution, the lifeguarded part of Skegness Central Beach was 'Red Flagged' for approximately two hours. This designation indicates that water conditions are unsafe for swimming and other activities, urging people to avoid entering the water until the Red and Yellow flag returns.Skegness's Shannon class all-weather lifeboat was commanded by Deputy 2nd Coxswain, Lee St Quinton, assisted by volunteer crew members Craig Hopkins, Mark Holley, James Porter, Billy Brookes, and Ryan Speed.The charity's lifeboat arrived back at Skegness Central Beach, and the crew debriefed following the service launch. Then they washed down and refuelled the Joel and April Grunnill to ensure the lifeboat was ready for the next emergency.