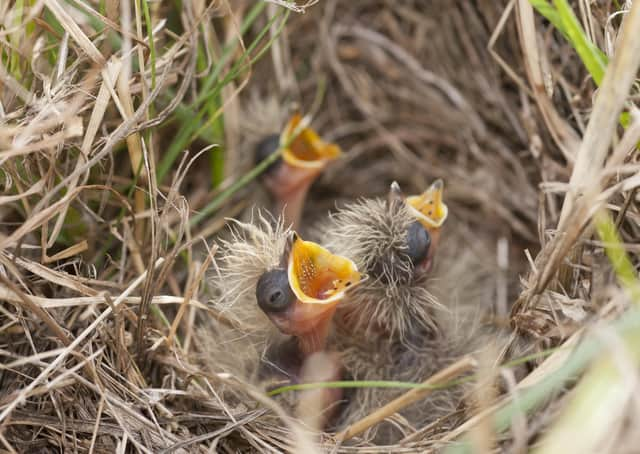 Skylark chicks in a nest. Photo: Kevin Sawford EMN-210424-084100001
The call comes from the RSPB which notes that more than half of England's most threatened breeding bird species nest on or near to the ground.
Sara Humphrey, communications manager, said: "If you ask people where bird's nest, they are likely say a tree, hedge or nest box. It's an image we've all grown up with but for some of our most threatened species it's simply not true.
"Almost every natural habitat in the English countryside can be home to ground nesting birds and many of these species are under increasing pressure due habitat loss, predators and climate change. Yet we can all help protect them from disturbance by simply following The Countryside Code and keeping to footpaths."
In Lincolnshire, saltmarsh and farmland offer a vital breeding habitat for wading birds, the RSPB says. This includes the lapwing and redshank, which create small nests hidden in the short undergrowth. Coastal areas are often home to beach nesting birds too, the charity continues, with the little tern, ringed plover and oystercatcher often nesting on beaches.
As vulnerable chicks are easy prey for predators, dogs running through nesting sites can be very stressful for breeding birds, the RSPB says. By sticking to paths, watching out for signage or alarm calls and keeping dogs on leads in these habitats, residents can help give chicks the best chance of survival, the charity adds.
n Read the Countryside Code at www.gov.uk/government/publications/the-countryside-code