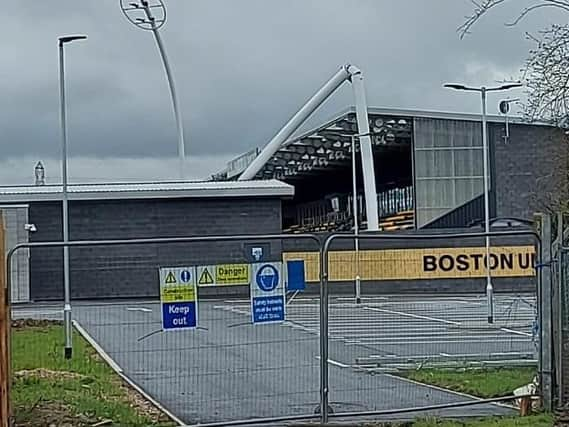 The Health and Safety Executive has also been informed about the incident at the Pilgrim Way venue.
United moved into their new multi-million pound stadium - part of the Quadrant development – in December.
The floodlight was left bent in half, with the top part collapsed onto the floor, as a result of the gusty conditions on Thursday.
In a statement, the club said: "Boston United can confirm that one of the club's floodlights sustained wind damage on Thursday morning.
"No-one was working in the area - and none of the other structures were affected.
"The floodlighting contractors will be carrying out investigations over the coming days - and the Health and Safety Executive have been informed.
"No further comment will be made at this stage."
United moved into their multi-million-pound stadium in December.
Matches at the stadium, just off the A16 in Wyberton, are currently on hold due to the National League North season being declared null and void.